Test pilots with the US Air Force (USAF) have demonstrated the Boeing F-15EX Eagle II fourth-generation fighter can effectively deploy three of the USA's longest-range air-to-ground precision munitions.
The service's Air Combat Command on 30 August said it validated the integration of the Lockheed Martin AGM-158 Joint Air-to-Surface Standoff Missile (JASSM) with the F-15EX during recent weapon systems evaluations with the updated air dominance fighter.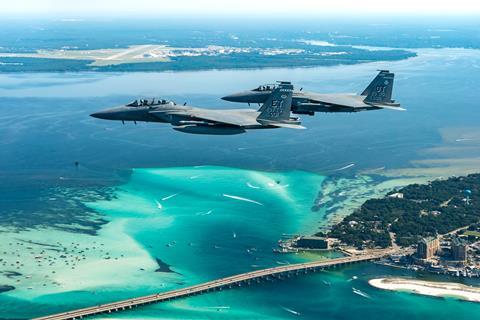 Major Calvin Conner, an F-15 test pilot with the 85th Test and Evaluation Squadron, says the successful firing of three JASSMs from a single F-15EX during the August evaluations proves the twin-engined fighter's strength in a ground-attack role, as well as an air dominance platform.
"The firepower a four-ship of F-15EXs brings to a combatant commander is tremendous," Conner says.
In January, the USAF said it had successfully tested the F-15EX's last two underwing weapon stations, clearing the fighter to carry up to 12 air-to-air missiles.
The addition of three JASSMs to each F-15EX represents a significant capability boost to the USAF, which describes the air-launched cruise missile as the longest-range air-to-ground conventional munition in the US inventory.
Lockheed's website lists the JASSM's range as greater than 500nm (926km). The company says it has produced 3,500 of the long-range missiles to date, opening a new factory in 2022 to increase production rates.
The recent weapons tests are part of the USAF's effort to certify the F-15EX platform and move toward initial fielding. The service accepted delivery of its first Eagle II in 2021 but so far has only two examples of the type – with both budgetary disagreements and industrial challenges slowing production.
Although the F-15 does not boast the low-observability of fifth-generation stealth fighters like Lockheed's F-35 and F-22, Boeing says the latest version of the F-15 brings much needed firepower to the fleet inventory.
In order to maintain their stealthy profile, the F-22 and F-35 must carry munitions in internal weapons bays. The result is a lower total payload capacity for weapons systems.
Boeing argues the F-15EX, which boasts a total payload substantially greater than that of the F-35, is ideally suited to back up the stealthy fifth-generation fighters with massed firepower. Augmented with the latest sensors and avionics, the company says the F-15EX is meant as a complement to the F-35, rather than an alternative.
The USAF appears inclined to support that concept. The service says its two F-15EX test assets "integrated with fifth-generation aircraft" during the recent weapons tests.
The latest USAF budget documents indicate the service plans to buy 110 examples of the F-15EX. The price of each jet is currently estimated to be greater than the $78 million it costs for a single F-35A.