Icelandair Group estimates that the Boeing 737 Max grounding has had a net negative effect of $100 million on the company's EBIT to date.
Describing 2019 as a "challenging year", chief executive Bogi Nils Bogason states that the grounding of the 737 Max since March had "an unprecedented negative impact on Icelandair's operations, resulting in lost revenue, increased expenses and restricted utilisation of the company's fleet and crew".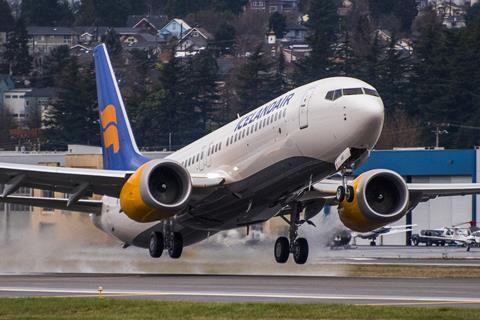 Management's key focus has been on "minimising the impact" on the business, the airline says.
Prior to the grounding, Icelandair had planned for its 737 Max jets to provide 27% of passenger capacity in 2019.
Cirium fleet data shows that Icelandair has five 737 Max 8s and one Max 9 in storage, and orders for another 10 aircraft.
Instead of having a planned fleet of 36 aircraft – including nine 737 Max jets – at its disposal, the airline operated 33 aircraft during last year's peak holiday season.
This included 22 757-200s – three more than previously planned – two 757-300s, four 767-300s, and five wet-leased aircraft.
The number of wet-leased aircraft varied between three in May, five from June through August, and four in September.
In addition to leasing costs, the airline faced increased expenditure due higher fuel consumption and higher ground, navigation and maintenance costs for operating older aircraft.
Icelandair says it reached two agreements with Boeing for "partial" compensation of the airline's losses in connection with the Max grounding.
The airline is in ongoing discussions regarding further compensation, it says.
Icelandair asserts the Max grounding was the main reason for its "negative results" in 2019.
The group reduced its EBIT loss to $39.3 million in 2019, from just under $57 million in the previous year. But the group's net loss grew $2.2 million to $57.8 million.
Revenue declined by $6 million to $1.5 billion as Icelandair adjusted its network to concentrate on more profitable routes.
Icelandair says that the number of passengers it carried to its home country grew 25% in the year, but the number of transatlantic transit passengers declined 9%.
Overall, the airline's passenger numbers grew 6% to 4.4 million. Capacity as measured in ASK increased by 3%.
For 2020, the carrier predicts a passenger decline to around 4.2 million travellers. "The current assumption is that the number of flights will be reduced by about 3% and [ASK] by 8%," Icelandair says.
It notes: "The key focus in 2020 will be on the profitability of Icelandair's route network and on mitigating the operating risk of a potential further suspension of the Max aircraft".
In January, Icelandair said that it does not expect the aircraft to be available for this year's peak holiday season and has therefore arranged leases for three 737-800s and the use of two additional 757s during the period.
As a result of the contingency plans, Icelandair foresees "considerably less" financial impact from the grounding than in 2019.