Lufthansa Group expects to ground 20 aircraft each day during 2024 because of continuing issues with Pratt & Whitney geared-turbofan (GTF) engines, but chief executive Carsten Spohr believes the mitigation measures it has in place mean capacity plans will not be impacted.
P&W parent RTX disclosed earlier this year that more than 1,000 PW1100G engines – an option on Airbus A320neo-family jets – might have defective high-pressure compressor and turbine disks caused by a manufacturing issue.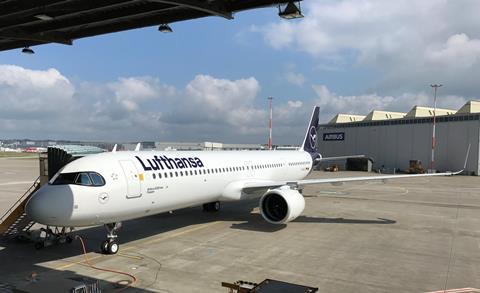 Speaking on a third-quarter results call today, Spohr said that 146 engines are impacted within the group's fleet.
"We currently expect on average 20 aircraft from the Airbus A320 family will have to remain on the ground daily in 2024 due to the necessary maintenance work," he says.
"This corresponds to less than one-third of Lufthansa Group's Airbus A320neo fleet and it's less than 5% of our overall Airbus A320 fleet, which comprises more than 420 aircraft," he says.
In addition to the PW1100G-powered A320neos, the group also operates examples equipped with CFM International Leap-1A engines.
"It helps that we decided to also use CFM Leap engines on our A320 fleet and not put all our eggs in one basket," Spohr says.
Despite the impact on its fleet, he adds: "Thanks to the counter-measures we are currently working on, such as the extended use of existing A320-family aircraft, wet-lease agreements, and the procurement of additional spare engines, the additional maintenance efforts will not impact our capacity outlook for 2024."
Lufthansa Group expects its capacity to reach 95% of 2019 levels next year.
Spohr also highlights the relative advantage the carrier has from having its own maintenance operation, Lufthansa Technik, in helping cop with the GTF issue.
"With Lufthansa Technik, the Lufthansa Group benefits from direct access to the scarce and extremely in-demand MRO capacity, a real competitive advantage at times like this," says Spohr.
In addition, there could be be increased third-party demand for the MROs firm's services because it is licensed to work on P&W engines, he adds.
"So there is one operational effect, getting the engines back in the air faster, and a financial effect of potential extra profits from doing work for other airlines around the world."