Norwegian and its subsidiaries have reached an accommodation with a number of lessors, including Avolon and SMBC Aviation Capital, relating to several aircraft the airline was formerly seeking to reject as part of its Irish restructuring process.
In a hearing on 15 February, Brian Kennedy, representing Norwegian, requested that contracts relating to a number of Boeing 737 and 787 aircraft be struck from the list of 36 lease deals that the airline is seeking to have repudiated by the court.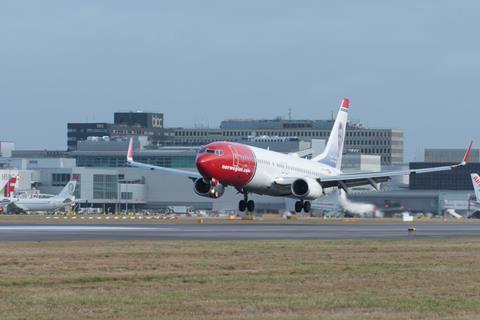 These include two 737s and three 787s (MSNs 41127, 41129, 38895, 38891 and 38893) leased from Avolon, of which Wilmington Trust Trust SP Services (Dublin) is the security trustee, and four 737s leased from SMBC Aviation Capital (40870, 42082, 42090 and 42092).
Two 737s (39011 and 39012) leased from DVB Bank are included in the list. Cirium fleets data shows they form part of the DVB-serviced KDAC 2017-1 asset-backed securitisation.
Contracts for two 737s (42094 and 42093) leased from Mitsui have been settled, says Kennedy. Cirium fleets data lists MSC Holdings as owner of both aircraft.
Two 737s leased from Wings Capital Partners (39045 and 39046), with Wells Fargo Bank North West acting as security trustee, are included. Cirium fleets data shows that they form part of the Wings Capital-serviced WAVE 2017-1 ABS.
Six 737s leased from Macquarie, Accipiter, Aviation Capital Group, Orix Aviation, FPG Amentum and Goshawk (39435, 36879, 40544, 39007, 39163 and 42281) are also included in the list.
The aircraft form part of the 36 lease agreements Norwegian is seeking to repudiate as part of its examinership process.
Kennedy pushed for a confirmation hearing on 18 February in order to move the restructuring process forward urgently.
He warned that sufficient time would be needed for follow-up remote meetings with relevant parties, followed by a parallel confirmation hearing in Norway, where Norwegian is also restructuring, along with time for a possible appeal in the restructuring process and a further two-week window to allow Norwegian to launch a planned fundraising drive.
He said the process needed to be completed by the end of April or there was a risk of the airline running out of cash and of the process impacting on its planned fundraising efforts.
"If you allow for all of those steps, judge, we are already right up against the wall, and every day is crucial at this stage, and every day counts from the company's perspective," he said.
But holding a confirmation meeting on 18 February was opposed by a number of the legal representatives of the creditors.
Rossa Fanning, representing the Export-Import Bank of the United States, said he vigorously objected to a meeting on 18 February, which he argued would provide insufficient time to process and respond to Norwegian's latest affidavits.
Justice Michael Quinn decided that substantive hearings would take place on 23 February.
Kelley Smith, representing the examiner KPMG, says the company will be applying to extend the 100-day limit under which Norwegian is protected from its creditors under Irish examinership, which is due to expire on 25 February.
She says there are "numerous matters to be dealt with" relating to the various repudiation orders, and adds that the need to convene meetings with the number of creditors involved represents a "significant logistical task".