Scandinavian low-cost carrier Norwegian has ambitions to own a significant proportion of its fleet, as looks beyond the leased capacity already secured for the 2023 summer season.
"Going forward, we would like to have a portion of the fleet, maybe even more than 50%, owned," says chief executive Geir Karlsen during a first-quarter earnings briefing today. "We have continued the dialogue with Boeing and Airbus, [and] we are definitely much closer to a solution on the plan going forward."
Boeing 737-800s dominate Norwegian's current fleet, alongside a growing slate of Max jets and a small number of Airbus A320s, according to Cirium fleets data. All of the aircraft are leased, but the carrier sees financial upsides to owning more of those assets.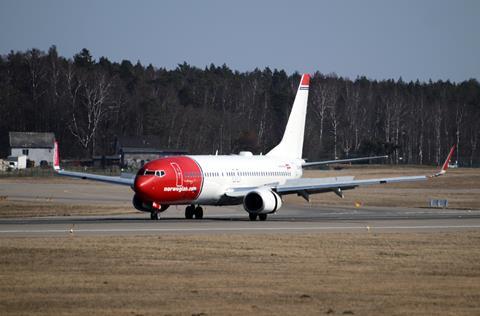 "If we are doing well going forward, we should have the ability to finance our assets cheaper than we ever have done," Karlsen states.
And he notes that while Norwegian talks to the big airframers about a potential order, the aircraft leasing market is tightening.
"Three, four, five months ago you could probably take in a Max at way below $300,000 per month," Karlsen observes. "Today you are paying $350,000-plus per month to take in a brand-new Max."
For now. the carrier is flying around 62 aircraft and plans to reach 70 units for the peak of the 2022 summer season, before it takes further leased jets to serve its ambitions for a bigger 2023 operation.
"We have also signed up for 15 additional Maxes that we will take delivery of early next year," Karlsen says. "A few of them will come in this [autumn], but they will have power-by-the-hour, so we are not paying for them until we are starting to fly them into the spring.
"The Maxes that we have signed up for next year have attractive terms," he adds. "So we will go into the top season in 2023 with 85 aircraft."
However Norwegian finances its fleet, a big focus for Karlsen is ensuring the airline navigates low seasons more effectively than it did pre-restructuring. For the next 12 months, he will be helped by favourable lease terms secured during the industry downturn.
"The 19 aircraft we have taken in this year also have power-by-the-hour next winter," he explains. "You will see next winter that we will fly less – we are aiming today to take down capacity probably as much as 25%.
"We have also come to a solution with the pilots and crew which gives us that ability," he says.
But beyond the next low season, "it's all about finding a solution for winter 2023-24," Karlsen states. "We will probably not park aircraft but we will fly them with less capacity.
"We are also trying to put as much heavy maintenance of our fleet into the winter season."