Spirit Airlines will accept delivery of the first of 41 Airbus A321neo aircraft it has on order sometime "over the next week".
The South Florida-based low-cost carrier expects Airbus to deliver seven more of the type before the end of the year, chief executive Ted Christie said during Spirit's first-quarter earnings call on 27 April.
"We are excited to be introducing this larger, fuel-efficient variant of A320neo family aircraft into our fleet, and expect the first aircraft to enter scheduled service in June," he says.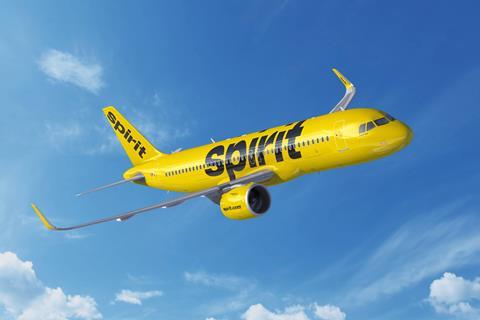 Spirit currently has firm orders for 31 A319neos, 64 A320neos and 41 A321neos, according to Cirium fleets data.
The first of Spirit's new A321neos – serial number 11328 – was assembled at Airbus' facility at Hamburg-Finkenwerder and completed its first test flight on 17 April, according to Cirium.
As configured by Spirit, the new narrowbody jet – powered by twin Pratt & Whitney PW1100G engines – can seat up to 228 passengers.
The low-cost carrier took delivery of five A320neos during the first quarter and retired four older A319s, ending the quarter with a fleet of 195 jets.
Spirit plans to operate 32 A321neos and 98 A320neos by the end of 2024, at which point it projects to have a fleet of 226 total aircraft.