Fast-growing Turkish joint-venture leisure carrier SunExpress has placed an order for 45 more Boeing 737 Max jets for delivery from 2029, together with options and purchase rights on another 45.
The firm portion, the first order announced at this year's Dubai air show, covers 28 Max 8s and 17 Max 10s. The agreement marks the airline's first commitment for the larger Max jets.
SunExpress already operates Boeing narrowbodies in a fleet of 66 aircraft, which includes Max 8s. It also had a further 33 Max jets on firm order, prior to today's follow-on commitment.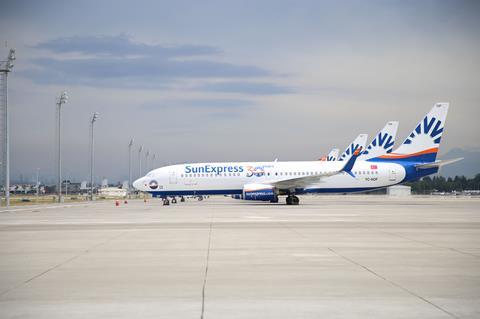 In addition to the firm orders, SunExpress has secured five options and 40 purchase rights. These cover Max 8s, but the airline holds substitution rights. Deliveries of the newly-ordered aircraft will begin in 2029 and run until 2035.
Speaking during a press conference at the Dubai show, SunExpress chief executive Max Kownatzki said the airline expected its fleet to reach 100 by 2028 and 150 in 2033.
"It means we are more than doubling our fleet in 10 years," he says. SunExpress is equally-owned by Turkish Airlines and Lufthansa.