NASA's Jet Propulsion Laboratory (JPL) sits at the end of Oak Grove Drive in Pasadena, California. In the summer of 1990, a young electrical engineer named MiMi Aung drove up the tree-lined boulevard for a job interview.
"I thought to myself, 'Oh my god, I'm on Oak Grove Drive. I am driving up to JPL.' I couldn't believe it," she says.
Thirty years later, Aung led the team that proved an aircraft could be flown on Mars.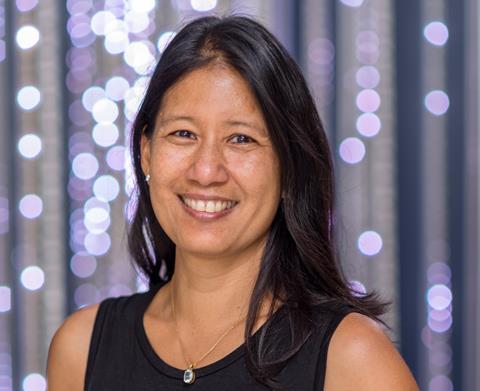 When the helicopter "Ingenuity" lifted off the red planet's surface in April, the media spotlight landed on Aung. She was the programme's project manager and the driving force who had kept the endeavour on track through years of research and development.
Her family hails from Myanmar, but Aung was born in Illinois while her parents pursued their PhDs in the USA. Her mother is a mathematician, and her father a chemist. And from an early age MiMi was surrounded by science and a love of learning.
When she was two, the family returned to Myanmar, and then later moved to Malaysia, where her parents were professors. Educated at international schools, Aung chose to return to the USA for her own higher education.
When the time came to choose a career path, it was clear she would follow her parents into the sciences.
"My master's degree was focused on signal processing and communications, and a professor said the NASA Deep Space Network would be an exciting place, because they are tracking tiny, tiny, tiny signals from spacecraft millions and millions of miles away," Aung says. "I thought, they probably have good signal processing communications challenges for me."
She had been drawn to space exploration as a child, but never believed she would have an opportunity to work in the field. "Then all of a sudden, you think, 'Hey, I may actually have a chance at this,'" she says.
Aung got the job at JPL and spent the ensuing decades working her way through the organisation, choosing ever-more-complex projects and taking on increasing responsibilities.
"After about 15 years, I really became passionate about autonomous space-based systems," she says. "There's so much room to be more autonomous and more capable. Our systems are state-of-the-art, but I think it's still early days, and there's still plenty of room for advancement.
"So I really became obsessed and passionate about just increasing the capabilities of autonomous space exploration systems," she says.
The Mars helicopter, Ingenuity, was a nearly nine-year labour of love. The idea was born in 2012, when JPL revisited research that had been done decades earlier but abandoned. Back then, the necessary technology did not exist. Today, it does.
Ingenuity arrived on Mars in the belly of the rover Perseverance on 18 February. Both had been launched from Earth seven months earlier, on 30 July 2020.
Perseverance deployed Ingenuity in April, and over the following weeks the sophisticated robotic helicopter – a 1.8kg (4lb) craft with dual 1.2m (4ft) rotors – began its flight test campaign.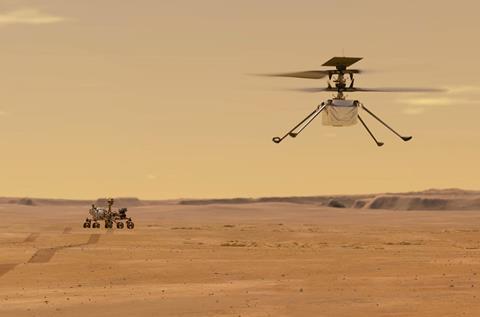 On 19 April, Ingenuity lifted off the surface of Mars for the first time, climbed to an altitude of 3ft, turned 96° and landed gently after a 39s flight. The milestone marked humankind's first powered, controlled flight of an aircraft on a planet other than Earth.
"It was an unbelievable feeling. We could finally breathe. Over the years the team had bonded in an unusual way. We were under so much pressure, and something could have gone wrong at every milestone," she says.
"We're a technology demonstration, so Perseverance didn't really need us. They could have gone to Mars without us. There were so many moments through the years I felt like I wanted to cheer but got this glare from the rest of the team."
Celebration of those early milestones were premature, her colleagues told her.
"But that was the moment when we could all say, 'It's okay. We've done it.'"
By the end of July, Ingenuity had completed 10 flights – five more than planned. The longest lasted 2min 46s and covered a distance of 625m (2,051ft), with the drone reaching an altitude of about 33ft. At that time, Ingenuity had survived more than 100 sols (Martian days, which last about 24h 40min) – four times longer than its expected lifespan. Just how long it will keep flying remains unknown, but the team will continue operating the craft as long as possible.
Aung will go down in history as the engineer who led the 150-person team that proved humans could fly an aircraft on Mars – a remarkable feat.
But she is not done yet.
"I will continue to pursue more capable, more autonomous space systems. It's where my heart is," she says.
Toward that end, Aung left NASA in July, taking a job with Amazon's Project Kuiper, an initiative to build a low-Earth-orbit satellite constellation. Through the project, Amazon aims to provide reliable, affordable broadband service to underserved communities worldwide.
Aung's career led her to the opposite side of the planet from Myanmar, where she sat on her bed as a child, dreaming of space.
Her advice to her 11-year-old self – and to kids everywhere?
"If you are really good at something, and you like something, be very attentive to that, because it's a really important signal," she says. "When I was 11, I didn't know which country I'd go to next. I just really loved math. I didn't know where I would be going. But I also didn't let go of what I really liked learning."