UK services firm Babcock has again cast doubt on its long-term future operating crew-change helicopters in support of the offshore oil and gas sector, with its chief executive branding performance in the segment as "frustrating and disappointing".
As a result, the firm has booked a £502 million ($633 million) write-down in its aviation business, chiefly related to the goodwill of the operation.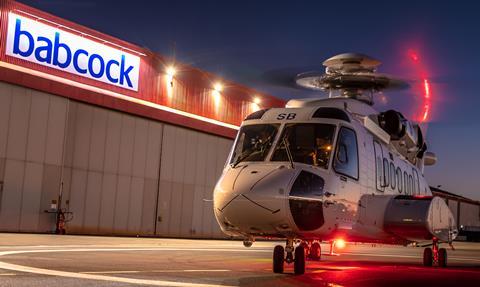 That is a significant increase on the impairment charge outlined in a February trading update, which at that stage was predicted to be just £85 million.
Babcock has been active in the segment since its 2014 acquisition of Avincis, which had previously bought offshore operator Bond Helicopters, a business whose roots stretched back to the early days of oil and gas support flights.
But speaking on a full-year results call on 11 June, Babcock chief executive Archie Bethel said the "major problem area" in its aviation division "continues to be the offshore oil and gas business".
Bethel says that market "dramatically declined" in the second-half of its financial year, which ended on 31 March, and its "competitors are continuing to bid at lower pricing levels".
"When you combine this with the likely impact of Covid-19, we no longer believe this to be an attractive long-term market for Babcock," he says.
While the Avincis acquisition helped boost Babcock internationally and gave its emergency medical services (EMS) operation additional stimulus, the oil and gas segment "has been frustrating and disappointing and we no longer believe it to be an attractive growth opportunity," he says.
Babcock "will continue to operate the reduced business for value and will continue to deliver for our customers", he says, but "we are not predicting significant growth over the next few years".
The write-down of the goodwill for the business, some £395 million, is to "reflect our updated views of the future".
As part of cost-saving in the offshore unit, Babcock has "significantly rationalised" its helicopter fleet, ending the leases of seven of 14 Sikorsky S-92s and five of six Airbus Helicopters H225s. That move has led to "improved utilisation" of its remaining assets, the accounts note.
Although Babcock in March won a five-year oil and gas contract from Sumburgh in the Shetland Isles, which was predicted to require around 100 flights per month with S-92s, the company says this was "at pricing reflective of the tough environment and current lease rates".
The group does not break out the financial performance of the offshore business from its wider aviation division, which includes military, EMS and aerial firefighting operations.
For the full year, divisional revenues were broadly flat year on year at £1 billion, while operating profit took a £57 million hit, falling to £121 million.
Bethel had warned in the February trading update that it did "not intend to invest further to stay in that [offshore] market" and said it would not chase the low pricing of its rivals, most of which had shed debts via US Chapter 11 bankruptcy protection.