Delays to the GE Aviation T901 engine could knock the planned first flight dates for the two contenders for the US Army's Future Attack Reconnaissance Aircraft (FARA) contest.
Carl Coffman, vice-president of military sales and strategy at Bell, says the prototype of its single-engined 360 Invictus helicopter is "now 87% complete", but cautions that achieving a maiden sortie in the second half of 2023 will depend on factors outside of its control.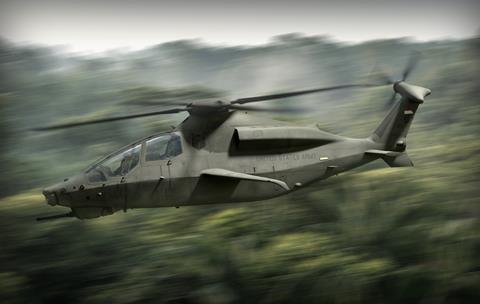 "Pending the delivery of the engine at the end of this year, we'll get to our first flight by the third quarter of 2023," Coffman told a 7 March pre-Heli-Expo media briefing.
But relying on the timely arrival of GE's T901 turboshaft – which is being developed under the Improved Turbine Engine Program (ITEP) initiative – "does put a lot of pressure on the schedule", he says.
Delivery of the powerplants is expected in October or November, but this could suffer further slippage. "If that continues to get pushed then that will continue to affect the schedule," says Coffman.
Similarly, Sikorsky expects to receive the T901 for its Raider X competitive prototype "later this year" to support a similar first flight schedule, says Paul Lemmo, president of the US manufacturer.
But while Bell waits for the engine, development activities are continuing: Coffman says the 360 fuselage is now undergoing stress evaluation at its Amarillo site in Texas using the company's "Red Iron" test rig.
Progress on the T901 has been hampered by the impact of Covid-19 on the supply chain and a first engine test run is only expected later this month, says GE.
A first fully assembled engine has been delivered to the propulsion specialist's test cell in Lynn, Massachusetts, and installation and instrumentation work is ongoing.
"Our team is working closely with the army to ensure we deliver the first flight-test engines late this year to support the FARA competitors' aircraft," GE says.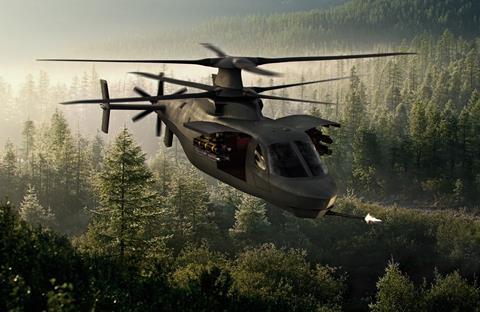 In the meantime, Bell has been using a 3D-printed mock-up of the powerplant to check its form fit within the 360's fuselage and ensure quicker progress when the real engine arrives.
"Any engine delay is certainly going to cause a schedule delay but we are doing everything right now to mitigate that and make sure we stay on track," says Coffman.
No consideration has been given to employing a different engine, he says, but "if the army was to tell us to move to an alternate engine solution we are certainly prepared to do that".
Bell has already tweaked the design of the Invictus, dropping its initial plan for a shrouded tail rotor in favour of an open rotor design in order to boost performance.
Sikorsky also recently touted the potential compound-co-axial Raider X's capability of carrying passengers if needed, for example to support special forces missions. Although the Invictus is envisaged with an internal weapons bay, Coffman says the design could be modified if that became a requirement.
A competitive fly-off between the two helicopters should commence next year, leading to a selection in 2024. The FARA helicopter is destined to replace the army's now-retired fleet of Bell OH-58D Kiowa Warriors.