Leonardo Helicopters has slowed the service-entry schedule for its recently acquired Kopter SH09 light-single and is also likely to build the rotorcraft at an existing production plant in the north of Italy rather than Switzerland as previously planned.
Although the purchase, worth an initial $185 million, was completed on 8 April, disruption caused by the coronavirus crisis has limited the interaction between the two companies. In fact, in-depth collaboration has only been possible over past four to six weeks, says Gian Piero Cutillo, managing director of the Italian firm's helicopter division.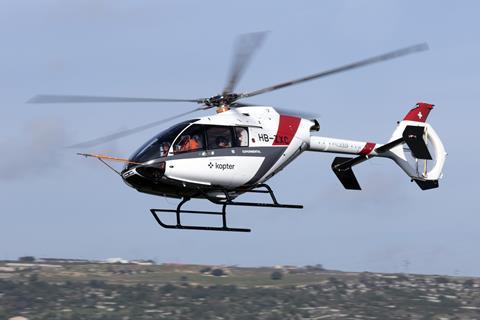 Speaking exclusively to FlightGlobal, Cutillo says that he was only able to visit Kopter's Wetzikon headquarters at the beginning of July, which provided "confirmation" of the acquisition's value.
"One of the reasons for buying Kopter was because of the product, but also it was because of the team and the people and the resources.
"I got a confirmation of their passion and enthusiasm," he says, and the employees "really welcome this deal".
While the SH09 has been in development since at least 2011, Kopter has struggled with the challenges of bringing it to market, repeatedly pushing back certification deadlines. Speaking in December last year, prior to the announcement of the sale to Leonardo, chief executive Andreas Lowenstein said that approval now would be in 2021 at the latest.
But Leonardo Helicopters has since rowed back from that date as it fully integrates the programme, says Cutillo; the new ownership means a "completely different scenario" and "pursuing different objectives".
"Now it is a Leonardo programme, we have to make sure this helicopter is embedded with all the quality, performance and safety of a Leonardo product."
While Cutillo will not be drawn on an exact date of the first delivery as its "assessment" of the SH09 is still ongoing, he says that "for sure it will not be 2021", with 2022 or 2023 more likely.
Customers are willing to wait, he argues, as the acquisition "gives [the programme] a lot of additional credibility on reaching certification by the expected deadline".
He points out that the programme's timeline has not been helped by the coronavirus pandemic "as for five or six months this helicopter has been blocked in Pozzallo without doing any flight tests", he says, referring to the company's Sicilian test site from where sorties resumed in June.
But the changes do not end there: Leonardo Helicopters is also reconsidering Kopter's production plans which would have seen the SH09 built at a factory in Mollis, Switzerland, with the US market addressed by a second plant in Lafayette, Louisiana.
Those locations are now under review: European production is "likely" to be in Italy, with the company's main final assembly line in Vergiate "a strong option".
Cutillo stresses that no decision has been taken yet and points out that the SH09 prototypes will still be built in Mollis.
Additionally, the agreement with the authorities in Lafayette – struck after Bell had dropped plans to build its 505 at the same site – is also "something that we are evaluating", he says.
Leonardo Helicopters already has a production plant in Philadelphia, which builds the AW119Kx light-single and AW139 intermediate-twin for the US market, and which could potentially absorb the SH09 as well.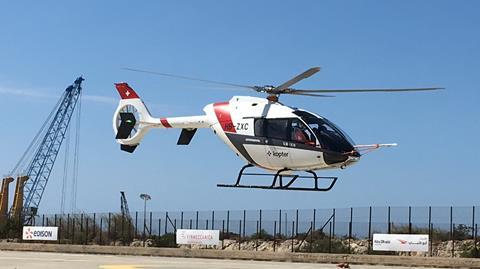 "We will evaluate this together. We cannot have redundant capacity – we need to be efficient and competitive," says Cutillo.
Additionally, a memorandum of understanding signed in October 2019 with Sacheon-based Korea Aerospace Industries (KAI) covering the potential assembly of the SH09 in the Asian country is also under review; while nothing has been cancelled, Cutillo says the company may look for other partnerships "under the Leonardo umbrella".
Although the airframer has yet to disclose any additions to the near-70-strong orderbook amassed by Kopter, Cutillo says Leonardo Helicopters' commercial team has begun selling the SH09 as part of its wider range.
"We are having a number of [customer] conversations," he says, describing them as "preliminary" but "interesting".
The 2.85t maximum take-off weight (MTOW) rotorcraft, powered by a 1,020shp (750kW) Honeywell HTS900 engine, is the first clean-sheet design in decades in the light-single sector, a market dominated by the Airbus Helicopters H125.
Leonardo Helicopters is, admits Cutillo, comparatively "weak" in the space under 3t MTOW, particularly in the civil sphere, "which is not a strong point".
"We were planning to do something to cover this aspect: acquiring Kopter means that we are not developing something [ourselves]," he says.
And while Kopter's attentions are in the short term focused on the SH09, Cutillo thinks there is no reason why the Swiss unit could not become the airframer's "centre of excellence" for light-singles.
Intriguingly, he also says that the manufacturer is already eyeing the future development path for the helicopter, which could include alternative propulsion technology, for example hybrid-electric power.
For the moment, though, the priority is to fully integrate Kopter into Leonardo's systems and processes, allowing the Swiss company to take advantage of the considerable resources available thanks to now being part of a much larger entity.
But, bringing it within that corporate umbrella will require a certain amount of delicacy so as not to sacrifice Kopter's more agile "start-up" culture.
"We only want to help when they are asking for help," says Cutillo. Although he emphasises that the company will be granted a degree of "autonomy", the target remains to deliver "the performance characteristics set at the beginning".
And while Kopter may benefit from its new owner's industrial and engineering heft, Cutillo stresses this should not be a one-way conversation and hopes Leonardo Helicopters will see some "positive contamination".
"I'm really encouraged that Kopter is doing a good job – but together we can be even stronger," he says.