Leonardo has won a contract to supply the Brazilian Federal Highway Police with six AW119Kx helicopters.
The first single-engined helicopter is planned to be received by the police in the beginning of 2021, with all examples delivered by about June of next year, Leonardo announced on 30 November.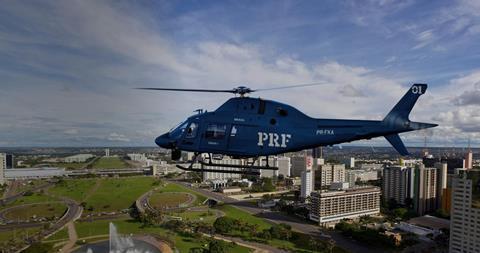 The AW119Kx helicopters are to be spread out across Brazil and flown by the Brazilian Federal Highway Police's Air Operations Division. The police force plans to use the rotorcraft for a variety of missions including transport, rescue, emergency medical service, fire fighting, surveillance and law enforcement, says Leonardo.
The AW119Kx light utility helicopter is instrument flight rules certified by the US Federal Aviation Administration, though for the Brazilian police the helicopters will be equipped with a visual flight rules Garmin G1000NXi glass cockpit.
Each helicopter will also come with electro-optical and infrared cameras, rescue hoist, cargo hook, bambi bucket to douse fires, rappelling kit on both sides for special forces operations, and advanced communication systems, says the Italian manufacturer.
The helicopter can carry six passengers in its cabin. It is powered by a single Pratt & Whitney Canada PT6B-37A turboshaft engine. It has a maximum endurance of 5h 20min or a range of about 515nm (954km).
Worldwide there are 111 examples of the AW119Kx in service, according to Cirium fleets data. The Military Police Brigade of Rio Grande do Sul, a law enforcement branch in Brazil's southernmost state, also operates two of the type, according to Cirium.