NATO members driving the development of a next-generation rotorcraft appear to be prioritising range and capability – including use as an optionally piloted aircraft – over very high speed, according to documents released by the alliance.
In addition, two new countries, Spain and the USA, are considering joining the five nations that signed up to the Next Generation Rotorcraft Capability (NGRC) initiative last year: France, Germany, Greece, Italy and the UK.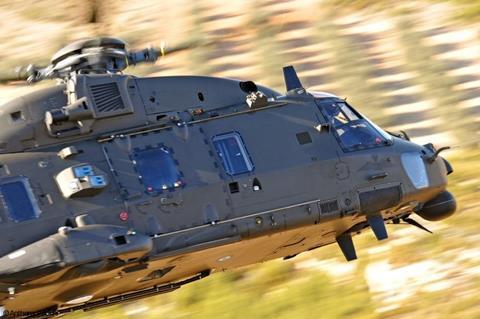 In an invite to a September industry day, the alliance's NSPA procurement body details the required attributes of the NGRC.
It should, the document says, have a range in excess of 900nm (1,650km), a maximum take-off weight of 10-17t, capacity for up to 16 troops in full combat gear or mission equipment, and endurance of more than 5h, or up to 8h with additional fuel tanks. Combined internal and external payload should be greater than 4t, with at least 2.5t carried internally.
Additionally, it should be capable of being used in as an "optionally unmanned/remotely piloted vehicle", it says. Maritime and land variants should use a common airframe and have a footprint no larger than the NH Industries NH90 or Leonardo Helicopters AW101, including a folding tail and main rotors.
While the NGRC is intended to be faster than a conventional helicopter, where cruise speeds are around 150kt (280km/h), its intended cruise speed – "optimally 220kt or more but not less than 180kt" – is less than that of the 250-280kt currently envisaged by the US Army for its Future Long-Range Assault Aircraft. One contender for that requirement, the Bell V-280 Valor, cruises at 280kt and has been taken to speeds above 300kt.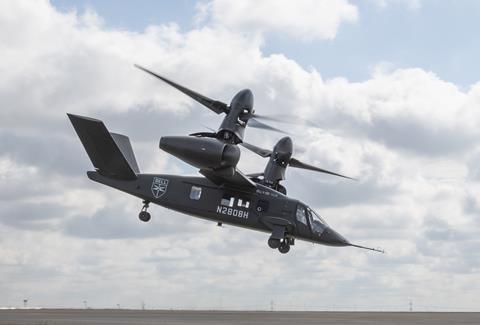 Affordability and availability are also key metrics: the NGRC should have a fly-away cost of no more than €35 million ($42 million) and a cost-per-flight-hour of "optimally" €5,000 but no more than €10,000. Meanwhile, availability rates for forward deployed fleets should hit 75%.
Under the heading "desired attributes", the document reveals that the NGRC should use "novel/hybrid powerplant[s]" producing at least 3,000shp (2,240kW), feature "fly-by-light/fly-by-wire" controls, be capable of being transported in an Airbus Defence & Space A400M or Boeing C-17 with minimal disassembly, of carrying out air-to-air refuelling, and feature an array of mission equipment and weapon systems, including air-launched effects.
In addition, it should be able to conduct manned-unmanned teaming, including managing a swarm of unmanned air vehicles, launching small "expendable" drones, and recovering small drones in flight.
The NGRC is due to enter service in 2035. Its development is being driven by the forecast retirement of around 1,000 medium-lift helicopters operated by NATO members other than the USA in the 2030-2040 period.
A letter of intent covering co-operation on the NGRC development was signed by five nations in October 2020, but the document notes that "Spain and [the] USA are also considering joining".
The sixth paragraph has been edited to clarify speed requirements.