Japanese divers continue to search for the wreckage of a Japan Ground Self-Defense Force (JGSDF) Sikorsky UH-60JA that crashed in the sea with 10 personnel aboard on 6 April.
Media reports from Japan suggest that five bodies and parts of the missing rotorcraft have been recovered.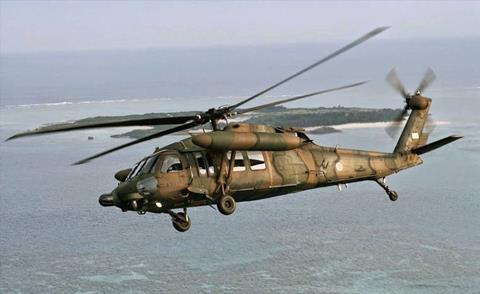 FlightGlobal has reached out to the JGSDF for comment.
The wreckage lies in about 347ft of water near Mikayo Island, which is part of Japan's southern Okinawa prefecture. Contact was lost with the helicopter 6min after it took off from a base on Miyako Island, and no distress call was received.
Victims of the crash include the commander of the JGSDF's 8th Division, Lieutenant General Yuichi Sakamoto.
According to Japan's Kyodo news agency, the UH-60JA had undergone an inspection in late March, which included a 1h check flight that apparently revealed no abnormalities.
Neither Japanese media nor the JGSDF have issued the registration number of the crashed helicopter. Cirium fleets data indicates that the JGSDF operated 40 UH-60JAs prior to the accident, which were produced by Japanese manufacturer Mitsubishi.
The average age of the fleet is 17.8 years.