South Korea has completed development of a new indigenous ground attack missile for the Korea Aerospace Industries Light Armed Helicopter (LAH) and other rotorcraft.
The weapon is designated Cheongeom ('Heavenly Sword') in Korean, and in English Tank Snipers, or 'TAipers', according to the Seoul's Defence Acquisition Program Administration (DAPA).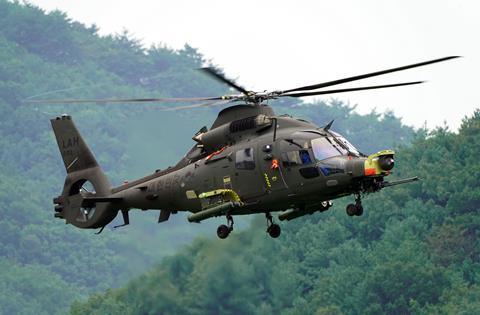 Outwardly, the Cheongeom resembles the BGM-71 TOW missile.
Initially the weapon will be used by the LAH, but it is likely to be deployed from other types, such as the attack version of the KUH-1 Surion be developed for South Korea's marines.
DAPA says that the wire-guided weapon has three modes: fire and forget, fire and update after launch, and a mode where the weapon strikes non-line-of sight targets through updates sent via wire.
The weapon has been in development for seven years under the supervision of South Korea's Agency for Defense Development.
DAPA adds that the Cheongeom is equipped with an algorithm that has been fed with over 800,000 images of potential targets. This, says DAPA, can help speed up engagement times "in case of emergency".
According to the Aju Daily news outlet, Hanwha Corporation's research centre played a major role in the project. It reports that the missile weighs 35kg (77lb) and is 1.7m (5ft 6in) long.
Potential future updates for the Cheongeom include a wireless data link, range extensions, and the incorporation of artificial intelligence.
In late November, Seoul approved mass production of the LAH, with the first batch of operational examples to be delivered in 2024.
The LAH and its Light Civil Helicopter variant are based on the 4.5t Airbus Helicopters H155. In South Korean service, the LAH will replace ageing Bell AH-1S Cobras and MD Helicopters MD500 Defenders.