Sikorsky has clarified its position on the use of its high-speed X2 compound-coaxial architecture on a future civil rotorcraft and says it would consider such a development if market demand materialises.
Jason Lambert, vice-president of global military and commercial systems at the US manufacturer, speaking at the Heli-Expo show in Dallas, had seemed to rule out a civil variant of its Defiant X or Raider X.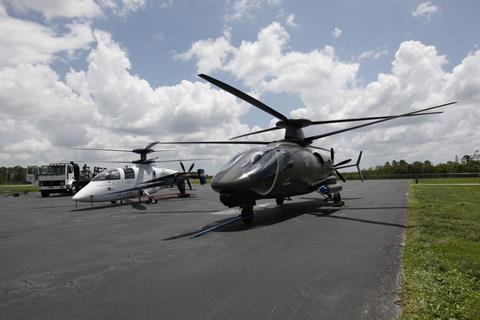 Those helicopters, which use a co-axial main rotor and tail-mounted pusher propeller to deliver high speed and agility, are being offered to the US Army for its Future Long-Range Assault Aircraft (FLRAA) and Future Attack Reconnaissance Aircraft requirements.
However, Lambert now says that while the company has no plans to build a civil helicopter using the X2 technology in the short-term, it is keeping its future options open.
"At this time as a corporation we are so laser-focused on winning the army's Future Long-Range Assault aircraft competition, and we will consider opportunities for the X2 technology in the civil and commercial market after the army makes their FLRAA decision," he says.
Lambert points out that Sikorsky has invested over $1 billion in developing and maturing the X2 technology over the past 20 years and it will "consider future opportunities" for its deployment. However, that will be contingent on customer demand, he says.
"In the near-term, however, commercial and civil operators are really focused on performing the current missions as cost-effectively as possible. They are not really asking us yet for that next generation of speed and range and other transformational capabilities that the X2 can deliver.
"But following the army award on FLRAA later this year, X2 technology-enabled platforms will maybe become more attractive to civil and commercial customers. And if that's the case we will absolutely pursue those opportunities," says Lambert.
For the civil segment in the short term, Sikorsky's focus is on securing an international partner for S-76D production, resuming sales of the S-92 to oil and gas customers, and pursuing opportunities for its civil certificated S-70M, alongside the provision of aftermarket support to the in-service fleet.
Although selection of the Defiant X or Raider X by the US Army would provide a huge sales volume on which to build, Lambert says the decision to offer a X2-equipped civil helicopter does not rest solely on that.
Sikorsky would still "consider" a commercial variant, but it would have to be "something our customers are looking for", he says, citing emergency medical services missions as a potential area where the speed and agility of the X2 technology could find an application: "Speed is a differentiator in missions like that where minutes are life."