Airbus Helicopters has delivered final Dauphin to roll off its Marignane production line, with the AS365 N3 handed over to the Spanish Customs Service.
Customised at the airframer's facility in Albacete, the 4.5t medium-twin is equipped with an electro-optical turret, a radar, a tactical communications system and a search light.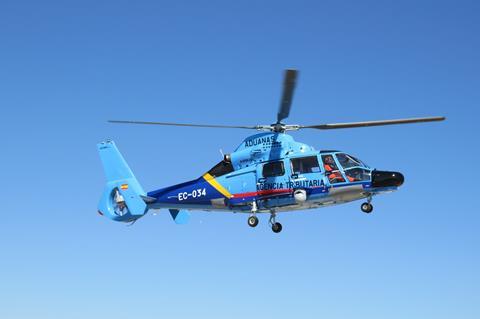 In addition, long-range fuel tanks enable a flight time of 3h 30min. Fast cruse speed is pegged at 145kt (268km/h).
This helicopter will be used to combat drug trafficking in the Straits of Gibraltar, the western part of the Mediterranean, and in Galicia in the northwest of Spain. The new arrival joins a fleet of three Dauphins.
Airbus Helicopters has manufactured more the 1,100 Dapuhin helicopters – both AS365s and H155s – over the past 40 years.
Cirium fleets data shows a total of 922 AS365s were built, including the Panther military variant, alongside 190 of the newer H155s.
Airbus Helicopters is replacing the Dauphin in its line-up with its newest model, the H160. However, the type will live on, in a slightly different form, as the H155-based Light Civil and Light Armed Helicopters being developed by Korea Aerospace Industries.