The US government has cleared the possible sale of 18 Boeing CH-47F Chinook helicopters to South Korea, and aircraft spare parts to Taiwan.
The total potential South Korean Chinook package, valued at $1.5 billion, also includes 42 Honeywell T55 engines, and a range of other systems, including communications gear and missile warning systems, according to a Defense Security Cooperation Agency (DSCA) statement.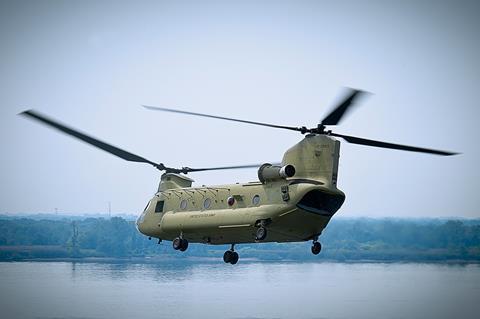 "This proposed sale will support the foreign policy goals and national security objectives of the United States by improving the security of a major ally that is a force for political stability and economic progress in the Asia- Pacific region," says the DSCA.
"The proposed sale will improve [South Korea's] capability to meet current and future threats by strengthening its army heavy lift capability. The CH-47F will allow [South Korea] to conduct missions in support of bilateral operational plans which include, but are not limited to, medical evacuation, search and rescue, parachute drops, and disaster relief."
In December 2021, Seoul's Defense Acquisition Program Administration announced that it would tap the international market to replace the army's ageing CH-47Ds. It said the programme would run from 2022-2028, with a value of W1.4 trillion ($1.1 billion).
In the 2010s South Korea explored the idea of upgrading its existing Chinooks, but eventually decided to obtain new helicopters. Cirium fleets data indicates that South Korea's army operates 38 CH-47Ds and five HH-47Ds. The average age of the combined fleet is 38.8 years.
The DSCA has also cleared two potential sales for Taiwan, including a $330 million package of aircraft standard spares for types such as the Lockheed Martin F-16 fighter, C-130 tactical transport, the AIDC Indigenous Defense Fighter, and other aircraft. It also cleared a separate $98 package for non-standard spare parts.
"The proposed sale will contribute to the sustainment of the recipient's aerial fleet, enhancing its ability to meet current and future threats while providing defensive and transport capabilities critical to regional security," says the DSCA of the Taiwan package.
"The proposed sale will contribute to the recipient's goal of maintaining its military capability while further enhancing interoperability with the United States and other allies. The recipient will have no difficulty absorbing this equipment and support into its armed forces."