The UK Royal Navy's (RN's) Wildcat HMA2 rotorcraft will be ready to defend the service's largest-ever warships from next year, with the integration of key new armaments proceeding on schedule, Leonardo Helicopters says.
An ongoing effort to add Thales Martlet air-to-surface missiles and MBDA Sea Venom anti-ship weapons has completed environmental testing and carriage trials aboard the 6t-class rotorcraft, following the integration of a Leonardo-designed Wildcat Weapon Wing.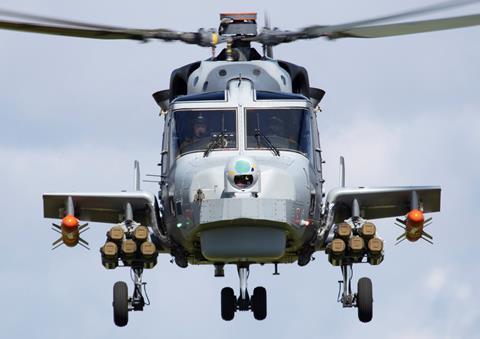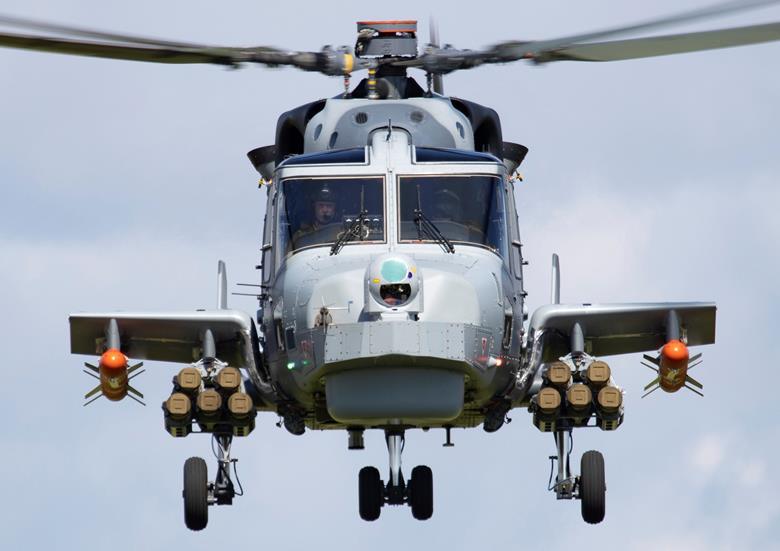 Louis Wilson-Chalon, maritime marketing manager for Leonardo Helicopters UK, says the company is on track to have the enhanced Wildcat ready for deployment in support of the RN's first worldwide operational Carrier Strike Group deployment late next year. This "CSG21" activity will involve HMS Queen Elizabeth – the service's first of two 65,000t aircraft carriers, along with support ships and Royal Fleet Auxiliary assets.
"We will be ready to support the fleet," Wilson-Chalon says, confirming that the company has received a production contract to build weapon wings for the navy's Wildcat fleet. Firing trials with the Martlet have yet to be conducted, but the programme is on schedule, he says.
The RN's new carriers will operate with an embarked complement of Lockheed Martin F-35B Lightning combat aircraft and Leonardo AW101 Merlin HM2 multi-mission rotorcraft, including airborne early warning examples being prepared via the Lockheed-led Crowsnest programme. Deployed aboard accompanying Type 45 destroyers and Type 23 frigates, Wildcats will provide anti-surface warfare protection for the carrier group.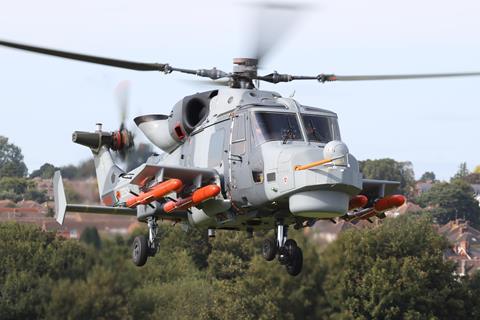 Each weapon wing-equipped helicopter will be able to carry a maximum load of 20 Martlet or four Sea Venom missiles, or operate with a mixed fit of 10 and two, respectively. With a 13kg (29lb) launch weight, 3-5nm (6-9km) range and Mach 1.5 performance, the laser-guided Martlet is integrated using five-round canister launchers. The high-subsonic speed Sea Venom is 2.5m (8.2ft) long, weighs 120kg and can attack surface targets to a range of over 11nm.
To offset the added weight of carrying the new anti-surface weapons, Leonardo's aerofoil-equipped weapon wing provides 360kg of aerodynamic lift on each side of the rotorcraft, Wilson-Chalon says.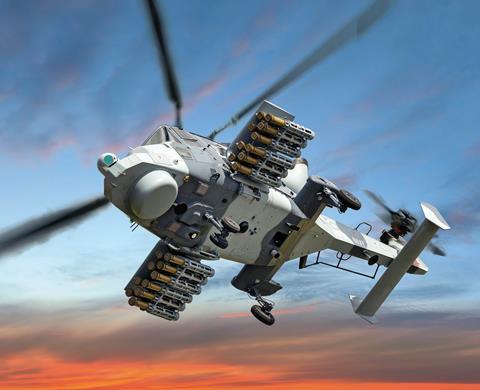 The RN has a fleet of 24 Wildcat HMA2s, with the British Army also using 28 of the type in a battlefield utility AH1 standard.
The navy showcased its future carrier strike capability from 28 February during a week-long visit to Liverpool by its second example, HMS Prince of Wales. The vessel will in early 2021 host a third and final series of flight trials with the F-35B, to be staged off the US East Coast, before also achieving operational readiness.