MBDA has successfully hit a maritime target with its Sea Venom anti-ship missile fired from a helicopter in a test.
The first qualification firing trial of the medium-range weapon was performed at the French DGA defence procurement agency's Essais de missiles test site at Ile Du Levant in the Bay of Biscay, on 20 February, MBDA announced on 6 March. The dummy target was a shipping container stacked on a large vessel at sea.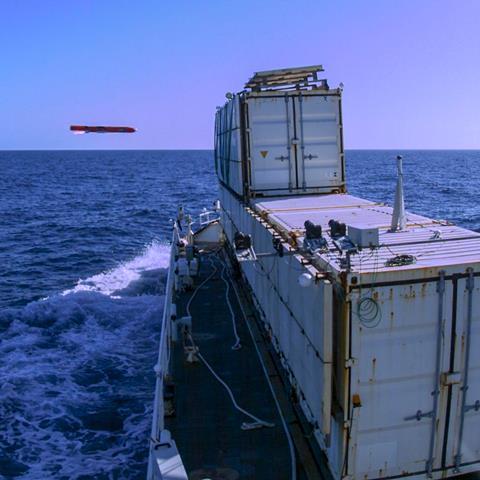 "The missile was launched from a Dauphin helicopter close to the minimum release height, reaching its cruise phase whilst sea skimming at very low height," says MBDA. "During its terminal phase, the aircrew used images from the infrared seeker – transmitted through the datalink – to perform a successful manual aim point refinement. The missile then followed this designated point until hitting the target with a very high degree of accuracy."
The manufacturer says it has previously test fired the Sea Venom twice: once to demonstrate its lock-on-after-launch capability; and again to show its lock-on-before-launch capability. Those tests also confirmed the missile's ability to fly low-altitude, sea-skimming routes and its autonomous guidance capability, which relies on images for an uncooled infrared seeker.
The weapon's seeker uses a set of algorithms to select enemy targets amid friendly or bystander ships. The missile relies on "a robust two-way data link" to allow an operator in the helicopter to supervise and override the automated targeting if required, MBDA's Sea Venom product card says.
According to the guided weapons company, the accuracy of the missile allows it to be used in complex situations.
"The ability to select a very precise aim point provides the operator with a full range of lethal and non-lethal proportionate options – such as disabling main armaments, sensors, or propulsion and steering equipment," MBDA says. "This means the system can be used within complex rules of engagement environments."
Also referred to as the ANL, the Sea Venom is intended for use with the French navy's future Airbus Helicopters H160M and the UK Royal Navy's Leonardo Helicopters AW159 Wildcat. It was developed as part of an Anglo-French co-operation programme.