General Atomics Aeronautical Systems has tested a Pratt & Whitney Canada turboprop as power for an MQ-9B SkyGuardian remotely piloted aircraft (RPA), with plans to offer the aircraft with a second engine option.
The San Diego manufacturer of unmanned air vehicles performed "multiple full-power engine tests" of a P&WC PT6 E-series turboprop on an MQ-9 on 29 July at its flight operations facility in El Mirage, California, General Atomics said on 16 August.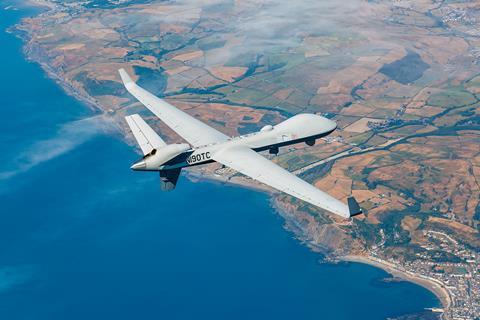 The MQ-9B's stock engine is a single Honeywell TPE331-10 turboprop. PT6s are among the best selling turboprops, being widely used on general aviation and small commercial aircraft.
"Integrating [the] PT6 E-series engine onto our MQ-9B SkyGuardian aircraft offers… a 33% increase in power, dual channel electronic propeller and engine control system, as well as all the benefits of the PT6 engine family," says David Alexander, General Atomics president.
Alexander notes that if approved, the PT6 powerplant could be an optional upgrade to the MQ-9B for the company's future customers.
SkyGuardian and its sister aircraft, the SeaGuardian, are from the same line of RPAs as the MQ-9A Reaper, and all have the Honeywell powerplant as standard. The Reaper, also known as the Predator B, first flew in 2001 and has seen extensive combat use with the US Air Force, UK Royal Air Force (RAF) and French air force.
The RAF has already signed on as launch customer for the MQ-9B as a successor to its current fleet of MQ-9A Reapers. The RPA is expected to enter service with the service in 2024, under the designation Protector RG Mk1.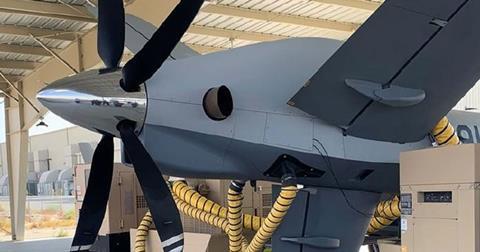 With plans to operate from RAF Waddington in Lincolnshire, the UK is set to become the first active user of the MQ-9B.
General Atomics describes the PT6 engine as a reliable and versatile turboprop that "will deliver the performance characteristics required as [General Atomics] continues its development of MQ-9B capabilities".
The MQ-9B features several major upgrades from the Reaper, including more payload, nine hard points for weapons or sensor pods, greater endurance and a dedicated maritime configuration for over-water missions, including those involving anti-submarine warfare. General Atomics says the entire family of vehicles, which began with the early RQ-1 Predator, boasts more than 7 million flight hours.
Montreal-based P&WC has been producing the PW545B powerplant for General Atomics' MQ-20 Avenger RPA for more than ten years, says the manufacturer.
The low-profile Avenger, also known as the Predator C, was designed around high flight speed for covert surveillance and precision-strike missions.