The "astronomical" charges imposed by Russia to overfly the country mean Air France-KLM is not seeing a significant financial impact from having to circumnavigate its airspace on flights to Asia, according to the group's chief executive.
Speaking during a full-year earnings briefing on 17 February, Ben Smith said that is good news for the group, which expects a "transatlantic-style" release of pent-up demand for travel to Asia because of China's reopening.
"Demand that we are seeing so far is strong – we're hoping for something similar to what we saw on the transatlantic with huge pent-up demand," he says in reference to the positive impact of the reopening of the Europe-USA market in November 2021.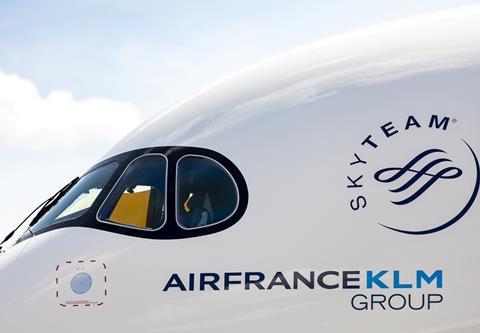 And while flights to China are taking up to three hours longer because of the overflight ban, not having to pay Russian charges has been "more than offsetting the increased costs that we were incurring on longer flights", Smith states.
"The charges that we used to pay to the Russian government for overlying were extremely expensive," he says. "The profitability… of our flights to China has been quite solid despite the fact we have to fly around Russia."
To aid that profitability as services are ramped up "quickly" in the coming months, Air France-KLM is assigning "our most efficient aircraft" to the routes, Smith says.
That follows what he describes as the "surprise" move by China to reopen borders at the turn of the year, with Air France-KLM's assumption being that such a decision was further away.
"We weren't expecting to allocate the amount of capacity we are planning to allocate," he states. "We're moving some lower-performing flights from other routes over to Asia."
At the same time, Smith suggests peers lack the capacity to re-enter the market at a similar pace.
"We see the ability of our competitors to add back capacity is limited – it will be a very tight capacity environment," he predicts.
Smith downplays the signficance of Chinese carriers still being able to overfly Russia and potentially gaining a competitive advantage, citing evidence of a strong customer preference for flying on Air France and KLM.
Moreover, a separate by-product of the closure of Russian airspace to most Western carriers is that Air France-KLM is enjoying "very strong" demand for services to India, Smith says, "thanks to the inability of carriers in North America to fly non-stop because of the Russian overflight ban".
The Franco-Dutch group swung to a full-year net profit of €728 million in 2022, on revenues 84% higher year on year at €26.4 billion. Operating profit for the full year came in at €1.2 billion, following a strong fourth quarter.
It expects to reach group-wide capacity at around 95-100% of 2019 levels this year.