Air France-KLM executives believe the group could return to cash-positive operations over the summer if the vaccine rollout delivers the hoped-for recovery in travel demand.
Today the group disclosed that operating losses widened to €1.18 billion ($1.42 billion) in the first quarter, while EBITDA losses crept up from €557 million in the fourth quarter of 2020 to €627 million for the first three months of this year.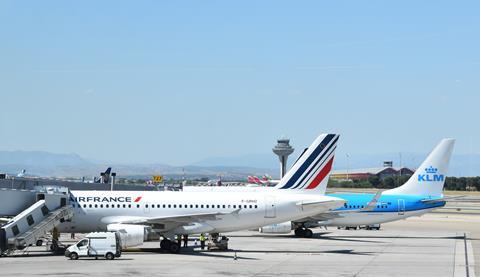 Air France-KLM is guiding for an EBITDA loss in the same range for the second quarter, as its projects capacity will be roughly half 2019 levels. That is similar to the 48% capacity levels the group flew in the first quarter.
It expects, however, the positive effects of the vaccination programme in Europe to enable it to increase capacity in the third quarter to between 55% and 65% of 2019 levels.
Speaking during a first-quarter results analysts call today, Air France-KLM chief financial officer Frederic Gagey – who it was today announced will retire at the start of July – said the group could return to a cash-positive position in the summer.
"I would say with the capacity we have for the time being in Q3, we are considering we will be with a positive EBITDA during the summer period," he says, but adds: "It is making the assumption the recovery is there during the summer."
Group chief executive Ben Smith says: "It's still a very uncertain environment. We are quite dependent on the deployment of vaccines. However, what we have seen take place in the United Kingdom and United States makes us more optimistic for the second half of the 2021.
"When we look at the US domestic capacity and demand, we have been completely taken by surprise as to how quickly that has rebounded to a level very close to 2019," he notes.
"We see Europe from a vaccination perspective being three, four, maybe five months in certain areas, behind the United States. So we are being cautious, quite conservative but are cautiously optimistic for Q3 and Q4 assuming the vaccine rollout does follow what took place in the United States."
Smith also points to a pick-up in booking following positive statements from various heads of states over the reopening of air travel markets. "We are seeing increases in demand and bookings from the United States into Europe, and we are definitely seeing some increased demand within Europe to holiday destinations. We are fully mobilised and ready to take full advantage of that as it develops," he says.
He points to flexible labour contracts and the relatively low aircraft utilisation rates as giving the carrier the ability to quickly respond to increased demand.
"We are operating as many aircraft as we can to keep them active, from a maintenance perspective, but obviously at much lower utilisation. So utilisation can be increased relatively quickly," he says.
Smith also points to growth opportunities outside European leisure markets this summer. "What we do have is quite a few counter-seasonal markets which are very strong, where in the past… we have not participated at the level I think we are capable of doing, particularly the French territories outside of France," he says, noting Martinique, Guadalupe and Reunion are the three biggest long-haul markets from Paris after New York.
"We have a fantastic opportunity to increase our position," he says. "Prior to the crisis, Air France was… mostly either number thre or number four in capacity, so there is an opportunity for us."
Citing the collapse of XL Airways France in late 2019 and restructuring at Corsair, Smith adds: "I think we are in a good position to take advantage of some capacity that has been removed from the market."
Gagey would not be drawn on the level of load factor development needed to reach cash positive in the third quarter. Load factor stood at just 40% in the first quarter, though Smith notes a combination of labour support programmes from the Dutch and French states and strong cargo demand has enabled the group to operate higher capacity levels than some of its rivals.
"Our load factors have been extremely low since the beginning of this crisis, and the very strict rule we have in place within the group, is if the flight is not projected to cover cash, they will not operate," Smith explains. "With the booking window being so close in, we will keep that rule throughout the summer. We will operate as much capacity as possible to follow that rule through Q3.
"I think we have taken the position to load capacity quite cautiously, knowing that we can add close-in with the flexibility we have," he adds.