American Airlines says that the dissolution of its so-called "Northeast Alliance" (NEA) with JetBlue Airways will not have a "meaningful" impact on the carrier's earnings.
Last week, a US federal judge struck down the almost four-year collaboration between the two carriers, saying it violated an anti-trust law, and ordered it to be permanently unravelled within 30 days. That window closes on 19 June. The companies have until 9 June to react to the decision.
"While this is a big decision, it has a potential to impact us, it is not meaningful to our earnings potential," American's chief financial officer Devon May told an investor conference on 25 May.
The NEA – which focuses on the two lucrative markets of Boston and New York City - comprises "5% of our total capacity…a small percent of our overall network", he adds.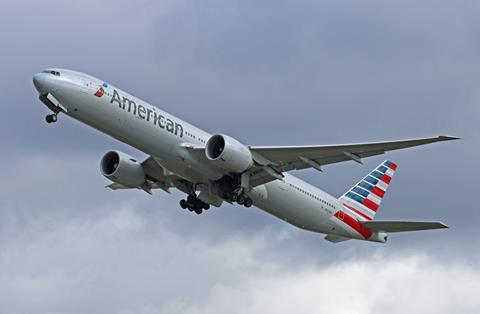 "New York is important to us. The NEA is very important for us, but New York is a pretty small fraction of our overall capacity," he says.
The carriers unveiled their "strategic partnership" in the northeastern USA in mid-2020. It was designed to be even the playing field to compete with United Airlines and Delta Air Lines, which have larger presences at airports in both cities.
The US government sued the carriers in September 2021, claiming the collaboration – which proposed operating code-share flights and offer reciprocal frequent flier benefits – stifled competition in those markets. The suit claimed the partnership gave American too much sway over JetBlue, threatening JetBlue's ability to remain a successful low-fare counterweight in an industry that has significantly consolidated, and that the deal represented a de-facto merger in the region.
Attorneys general in six states and the District of Columbia had joined the DOJ as plaintiffs.
The airlines have progressively expanded the alliance since it was formed, and as late as April, executives at JetBlue had said that that airline's revenue outlook for the year would be "bolstered by strong revenue streams from the NEA".
JetBlue did not immediately respond to a request for additional comment.
"We like the NEA and how it is structured," American's May says. "We feel good about what we have done. From an earnings standpoint – it is a big deal for New York and the New York strategy, [but] it is not something that is meaningful to our earnings."
Looking toward the busy northern hemisphere's summer travel season, May assuaged traveller concerns that already-booked flights may be cancelled, or capacity reduced.
"[The decision on the] NEA is not going to change our capacity plans in New York in the short term. It is not going to impact customers," he says. But how it will affect the carrier over time, he adds, "that is to be determined".
"We were surprised by the decision as well, we completely disagree with the decision, we think it is flawed," he adds. "[The NEA] is pro-competitive, pro-choice, we have added capacity, we feel really good about what we have done for consumers."
May says the company will be commenting further on the court ruling in the "coming days and probably the coming week".