Low-cost carrier EasyJet is citing its ability to up-gauge from smaller Airbus A319s as providing opportunity to easily lift capacity in coming years as part of its strategy of growing at slot-constrained airports.
The UK carrier still operates 99 A319s, configured with 156-seats, as part of a fleet of 322 Airbus narrowbodies. However, it is in the process of replacing these with on-order larger A320/A321neos. EasyJet adds 30 seats when up-gauging to an A320neo and increases seat capacity 50% when switching to the 235-seat A321neo.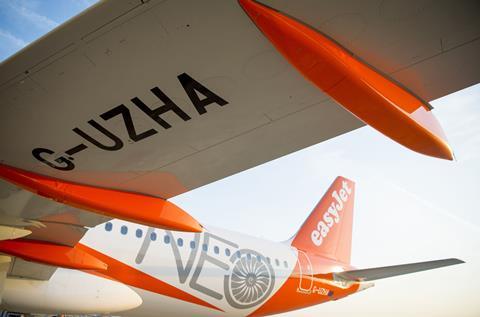 "In those slot-constrained airports, there is growth to be had with the existing slots," says EasyJet chief financial officer Kenton Jarvis, speaking during the airline's first-half results briefing today.
EasyJet's fleet will reach 324 aircraft by the end of September and the airline is scheduled to receive six A320neo-family jets in the next financial year, 18 in 2023/24 and 26 the year after. The carrier has 115 A320neo-family aircraft on order, and Jarvis notes the carrier's A319s will be "pretty much all gone" by 2027.
The airline has taken a more-cautious approach to returning capacity since the pandemic than rival European budget carriers, focusing much of its growth in core slot-constrained airports. It cites additional slots and services secured at core airports, including Lisbon, London Gatwick, Milan Linate and Porto.
EasyJet had returned capacity to 64% of pre-crisis levels for the last quarter of the 2021 calendar year; this dropped to 50% in January as the Omicron variant spiked. However, capacity increased to 81% of pre-covid levels in March and 86% in April. EasyJet expects its capacity will hit 90% for the three months to June and 97% for the July-September quarter.
The airline notes this approach enabled it to secure load factors over 80% in the non-Omicron impacted months of October, November, February and March. It sees load factors exceeding 86% for the April-June quarter and 90% for the peak summer July-September quarter.
Those targets are backed by a strong yield environment, with bookings for the April-June quarter running, over the last 10 weeks, 5% above 2019 levels. Bookings for travel in the peak summer quarter are running 13% higher.
EasyJet executives say capacity taken out by network-carrier rivals are enabling it to strengthen its market share at core airports and supporting yields. Chief commercial officer Sophie Dekkers points to the strong demand performance at London Gatwick, where the airline has reallocated aircraft to boost capacity. "Normally, you would see… yields diluted [with that extra capacity]. But we are not seeing that, which is very positive," she says.
Despite optimistic signals, EasyJet, which cut losses by a fifth to £545 million ($676 million) in the first half of its financial year, has stopped short of issuing full-year profit guidance, citing short-term uncertainty.
"We are really encouraged with bookings," says Jarvis. But, he notes that while three-quarters of the airline's third-quarter capacity is sold, only 36% of fourth-quarter capacity is booked due to a later customer booking cycle.
He also flags the impact of higher fuel costs, noting 29% of EasyJet's fuel is un-hedged for the second half of the year. "That needs to be factored in. There are still quite a lot of variables," he says.