London Heathrow airport does not expect passenger traffic to recover fully until 2026, and is complaining that recent proposals to allow it to increase charges "do not go far enough".
The airport saw its first full quarter of passenger growth since 2019 in the three months ended 30 September, boosted by the easing of travel restrictions and a surge in pent-up demand.
Despite this, passenger numbers reached only 28% of their pre-pandemic levels, while cargo volumes, amid a lack of capacity on passenger flights, recovered to 90% compared with the third quarter of 2019.
For the first nine months of the year, pre-tax losses narrowed to £1.38 billion ($1.91 billion) from £1.52 billion in the same period of 2020. Heathrow has lost £3.4 billion cumulatively since the start of the pandemic, remains loss-making currently, and has £4.1 billion in available liquidity.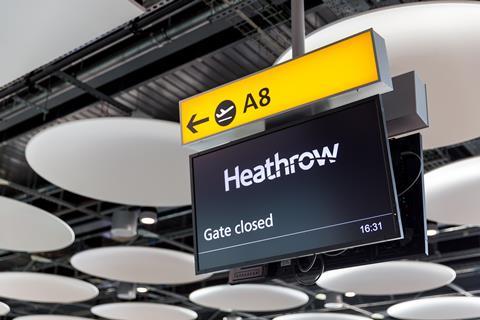 "We are on the cusp of a recovery which will unleash pent-up demand, create new quality jobs, and see Britain's trade roar back to life – but it risks a hard landing unless secured for the long haul," states Heathrow chief executive John Holland-Kaye.
Heathrow has recently become embroiled in a spat with airline customers over charges, as the airport seeks permission from the UK Civil Aviation Authority to impose large rises in fees in a bid to claw back some of the losses built up through the crisis.
Addressing the issue, Holland-Kaye argues that higher charges are required in order to "sustain service and resilience after 15 years of negative real returns for investors".
He adds that the CAA's current proposals therefore "do not go far enough to ensure financeability" and to enable shareholders receive a fair return "which is key to securing future private investment in passenger service and resilience for Britain's hub airport".
The CAA's proposals, published earlier this month, envisaged increasing average charges to a potential range of £24.50-34.40 per passenger over the next five years, up from a cap of £22 in 2020.
This proposed increase has been strongly criticised by airlines. Lobby group Airlines UK described the move as a "blatant gouging" of the sector and warned it would ultimately hurt passengers. "How on earth can it be in the interests of consumers to ramp up charges by as much as 50%?" asked the group.
Airlines' worry is that such increases will force them to raise fares and choke off demand just as the recovery is gathering pace.
Seeking to further make the case for higher charges, Holland-Kaye highlights that private investment has "transformed Heathrow" in recent years, "so that it is now rated by passengers as one of the top 10 airports worldwide, and airlines are able to achieve premium margins".
The comments are a sign that tensions between the airport and its airline customers are set to continue, ahead of the CAA's announcement of its final decision on 17 December.
Turning to sustainability, Heathrow is advocating the establishment of a global mandate for sustainable aviation fuels to ensure that aviation can thrive while reducing its negative impact on the environment.
"The UK government's ambition to implement a mandate for at least 10% SAF use by 2030 and £300 million kickstart funding for production in the UK, provides leadership by example to other world leaders ahead of the COP26 summit in Glasgow," states Holland-Kaye.
"We now need government to set higher mandate levels for 2050 and provide a price-stability mechanism, such as contracts for difference, to scale up supply as fast as possible."