Qantas and its low-cost unit Jetstar will make significant capacity cuts until end-March, as Australia reports a spike in coronavirus infections caused by the more contagious Omicron variant.
The carriers add that its too early to assess the financial impact of the cuts, but warn that there will be "some costs that we will have to absorb" from the "sudden drop in demand".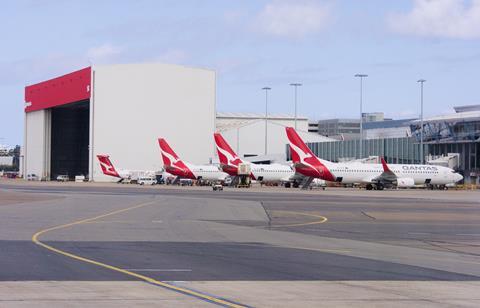 Until 31 March, Qantas and Jetstar will only operate at 70% pre-pandemic capacity for their domestic network. This is down from the group's earlier forecast, which would have seen capacity increase 2% from pre-pandemic levels.
"The schedule changes are focused on reducing frequency of services and size of aircraft to minimise inconvenience for passengers as much as possible," states Qantas.
On its international network, Qantas and Jetstar have cut capacity to just 20% pre-pandemic levels, down from 30%. Qantas blamed tightened travel restrictions in several markets — including Japan, Thailand and Indonesia — for the capacity cuts.
However, it states that other key markets, such as the UK, South Africa and India, continue to show strong demand.
The carriers add that "no material adjustments" have been made for capacity in the quarter to 30 June. Qantas group chief executive Alan Joyce adds that forward bookings for the Easter holiday period in April are "looking promising".
Adds Qantas: "An assessment on the financial impact of these changes will be given at the group's half-year results in late February, by which time a clearer picture will have emerged on swing factors such as actual demand levels; potential loosening or tightening of travel restrictions in countries overseas; and consumer response to the reopening of Western Australia next month."
Despite the capacity cuts, the airlines point out that they will not stand down Australia-based crew members.
"This 100 per cent crewing level will be maintained despite the capacity reductions announced today, giving both airlines a significant buffer to manage ongoing isolation requirements and resulting in a more reliable schedule for passengers," the airlines add.
Stating that the airline was "optimistic" that demand will return quickly, Joyce says: "The sudden uptick in Covid cases is having an obvious impact on consumer behaviour across various sectors, including travel, but we know it's temporary.
"We have the flexibility to add capacity back if demand improves earlier than expected, but 70 per cent still represents a lot of domestic flying and it's a quantum improvement on the levels we faced only a few months ago. Our focus on cash positive flying remains, notwithstanding some of the costs that we'll have to absorb from this sudden drop in demand," he adds.
The Qantas Group is the latest airline to have slashes capacity as the wave of Omicron infections sweeps across the world. Hong Kong-based Cathay Pacific cut passenger capacity to just 2% pre-pandemic levels in January, as its home city tightened crew quarantine measures.
Airlines in Europe and USA are also cutting back on capacity, amid staffing issues and a dip in travel demand.