Qantas will operate its second of three ultra-long-haul test flights under Project Sunrise, this time from London to Sydney, a month after it completed its first research flight from New York to Sydney.
The latest flight took off at 06:00 on 14 November, and will last about 19.5 hours, slightly longer than the New York-Sydney nonstop which flew in October.
Like the earlier flight, the aircraft will carry about 50 passengers and crew, and no cargo, in order to give it the necessary range. The Boeing 787-9 that will operate the flight – a new aircraft to be delivered to the airline – will fly 17,800km (9,600nm). This is about 1,500km further than New York-Sydney.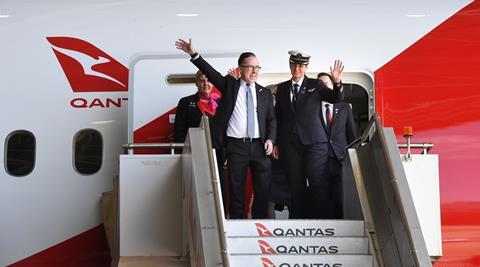 Qantas' second research flight is the second such flight to operate London-Sydney nonstop. Thirty years ago, Qantas flew a 747-400 ferry flight on the same route. The carrier adds that it comes nearly 100 years to the day when it first launched London-Australia flights.
Project Sunrise is Qantas' initiative to open nonstop services to the Australian east coast from New York and London from around 2022-23.
Although these services will eventually use either Airbus A350 or Boeing 777X jets, the three Qantas 787 delivery flights will be used to gather data on ultra-long-haul services for the carrier.
The last test flight will replicate the same route, and will take place in December, the carrier adds.
Qantas expects to make a business decision on Project Sunrise by the end of the year. If the go-ahead is given, the first nonstop flights could commence from 2023.