Taiwanese start-up carrier Starlux Airlines is continuing its trans-Pacific expansion with plans to launch thrice-weekly flights from Tapei to San Francisco on 16 December and a new route to Seattle in 2024.
The carrier said on 12 September that booking is now open for the Tapei-San Francisco route, which will be flown with Starlux's flagship Airbus A350-900s.
Starlux plans to ramp up to daily service to San Francisco starting in March.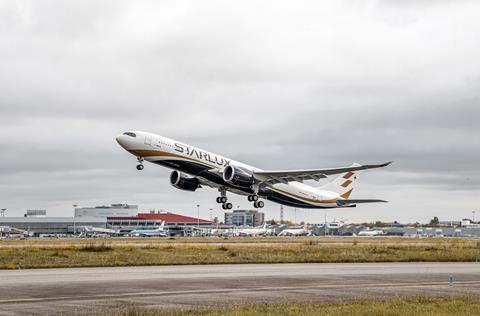 The planned flights to San Francisco "align with the airline's expansion objectives", Starlux says, adding that "this new route will especially cater to the city's vast Asian diaspora".
"With San Francisco's proximity to Silicon Valley and status as a significant political, economic and tourism hub, the 'city by the bay' has established itself as a top travel destination," says Glenn Chai, chief executive of Starlux. "And with one-third of its population of Asian descent, our new route will cater to these travellers' needs too, whether they are visiting family, vacationing or travelling for work."
"Starlux strives to continue expanding and is also planning a new Seattle route next year," Chai adds.
The Taipei-San Francisco route would be the carrier's second destination on the West Coast of the USA.
In May, Starlux launched its first flights to the US West Coast, using its A350-900s to fly passengers from Taipei to Los Angeles. Starlux has recently stepped up its flight frequencies to Los Angeles to daily.
The carrier's longer-term plan is to operate to New York and other major metropolitan areas on the East Coast of the USA.
Launched in January 2020, Starlux operates an all-Airbus fleet including A321neos, A330neos and A350-900s.
The carrier's "single goal since our launch" has been to enter the trans-Pacific market, Chai told FlightGlobal last month.