United Airlines will ramp up its transatlantic schedule this summer by introducing six new destinations and reinstating 18 routes in Europe and the Middle East, marking what the Star Alliance carrier calls its biggest expansion in history.
The Chicago-based carrier's announcement on 26 April confirms information it released publicly six months ago, making it the "clear number-one airline" on flights between Europe and the USA, says Patrick Quayle, senior vice-president of international network and alliances. In total, United will launch or resume 30 transatlantic flights between April and June.
Last October, the airline said it planned to add five new destinations from the USA: Amman, Jordan; Bergen, Norway; the Azores, Portugal; Palma de Mallorca, Spain and Tenerife in the Spanish Canary Islands.
In addition, United said last year it would expand its schedule to cities it already serves and reinstate flights that were interrupted during the pandemic. These destinations include Nice, Zurich, Frankfurt, Munich and Milan.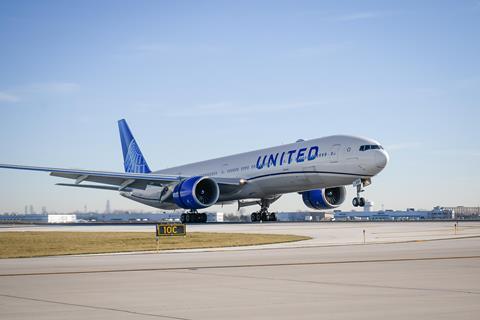 "Over the next week we are going to be adding a historic amount of capacity that will cement us as the largest airline in the transatlantic corridor," based on available seat miles (ASMs), Quayle adds.
The announcement comes on the heels of United's first-quarter results call last week, when executives said they expect the company will be "solidly profitable" during the second quarter of the year, even though it posted a loss for the first. That "bullish outlook" is based on rising revenue projections and pent-up customer demand.
"We anticipate a full recovery and we are super-excited for what the bookings are this summer and the new destinations we will be serving," Quayle says.
The airline says with these additions, it's transatlantic route network will be "more than 25% larger than it was in 2019".
"United will serve more transatlantic destinations than every other US carrier combined and will be the largest airline across the Atlantic for the first time in history," the airline says.
New routes aside, the carrier has also cut some routes between Europe and the USA, notably Newark to Prague and Washington, DC to Berlin. Quayle notes that twin issues caused these reductions.
"We have a bit of a pilot shortage and we are waiting the approval of the Pratt & Whitney-powered 777 aircraft," he says. "Given both of those challenges, we had to pull back a bit of the capacity for this summer."
The carrier said last week that its Pratt & Whitney-powered Boeing 777s, which it grounded last February after one example suffered a blade-out, in-flight engine failure near Denver, were expected to "gradually return to service". As they do, United will add capacity to its system.
That aircraft lost its right PW4000 just minutes after taking off, raining debris across several neighbourhoods. Two fan blades had cracked due to metal fatigue, and the engine's inlet and cowling separated from the powerplant. There were no injuries but it was the third such PW4000 incident in less than three years.
"If we didn't have the challenges in those areas, we would absolutely be flying [the routes] this summer, and we fully intend on bringing them back in 2023," Quayle says.
The airline has repeatedly said it sees notable increases in forward bookings when Covid-19-related travel restrictions ease. Quayle says United does not know when the USA might lift its pre-departure testing requirement for inbound international passengers.
"We haven't been told, but we believe the administration should eliminate the pre-departure testing requirement. By doing so it will make it easier" to travel.