UK carrier Virgin Atlantic has written off the normally busy Easter travel season and now expects a recovery in passenger numbers to begin in May-June, chief executive Shai Weiss has indicated.
Noting that he has been forced to repeatedly push back his expectations for a recovery in travel demand, Weiss now foresees "very little travel in the coming months" with a "a summer resumption [now] more realistic".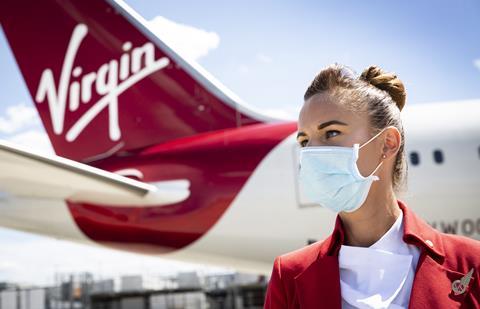 Speaking during a webinar organised by New York's Zicklin School of Business, Weiss's alma mater, he added that Virgin Atlantic's passenger numbers would not return to 2019's levels until 2023/24, despite expectations of pent-up demand.
Even when traffic does return, "the mix will be different", says Weiss, predicting an "inherent reduction in business travel", although some corporate travel will still be necessary given the limitations of video conferencing, something he believes the pandemic has underlined.
Leisure travel is likely to have greater resilience over the long term, given the public's "tremendous pent-up demand" to return to the skies.
During the conversation with the Zicklin School's Larry Zicklin, Weiss shed new light on Virgin Atlantic's path through the Covid-29 crisis, noting that for the three months from 20 April it flew zero passengers and owed £600 million ($830 million) in refunds, forcing it into painful steps to survive.
Those included a recapitalisation, cuts to its workforce of 45%, a reduction in fleet size, and the sale-and-leasebacks of aircraft. At the end of the process, "every asset in our country is leased in some way", says Weiss, adding that the airline has options to further bolster its balance sheet going forward, if necessary.
During 2020 air cargo became one reliable source of income for the carrier, essentially turning it into a freight-only operator for much of the period. It increased its cargo revenues by 40% over the year, helped by rates that have increased "dramatically, by two, three, four times" as passenger aircraft belly capacity collapsed, says Weiss.
In total, Virgin Atlantic operated over 4,000 cargo-only flights, including from unusual locations for the normally long-haul, North America-focused carrier. Weiss cites one flight on which it imported 50t of Norwegian salmon to the UK in the belly of a Boeing 787, the maximum weight they have achieved to date.
Going after these additional revenues from cargo operations was one of the key decisions that mean "we are still here", says Weiss.
Looking ahead to other innovative ways of doing business, he says there is "no doubt that we will accept bitcoin in the future" as payments, the carrier having "toyed" with the cryptocurrency for several years to access cash trapped in a foreign entity: "I thought the best way to access it was bitcoin," recalls Weiss, "and it proved to be correct."