Deliveries of new aircraft to Asia-Pacific collapsed in February, with only 11 aircraft delivered to the region out of the global total of 77.
According to Cirium fleets data the Asia-Pacific, consistently the leader in aircraft deliveries, trailed both Europe, which saw 29 new aircraft delivered, and North America, where 23 aircraft were delivered.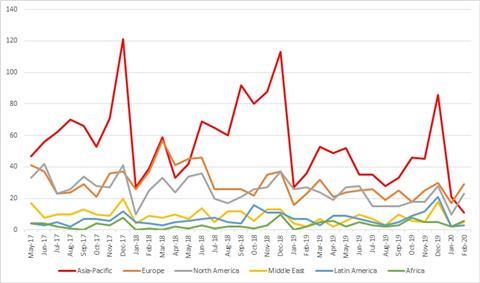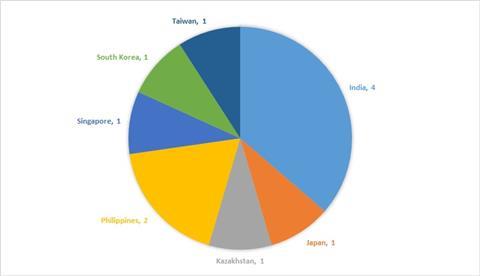 Boeing and Airbus were noncommittal on the deliveries plunge, which comes amid wide scale air traffic disruptions from the coronavirus, which originated in China and has spread globally.
"Airbus assumes that the world economy and air traffic will grow in 2020 in line with prevailing independent forecasts, which assume no major disruptions, including from the coronavirus," says Airbus in response to a query from FlightGlobal.
"Based on this, Airbus targets around 880 commercial aircraft deliveries in 2020. We are monitoring closely the potential impact of the coronavirus situation on our business. Discussions with our customers on delivery schedules are confidential."
Asia-Pacific deliveries during February were down from 35 in February 2019 and 21 in January 2020.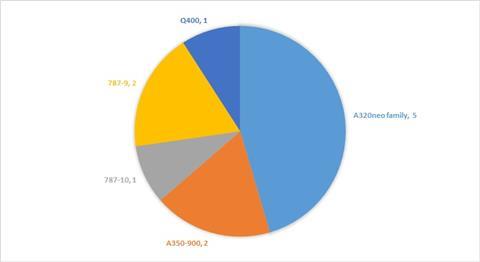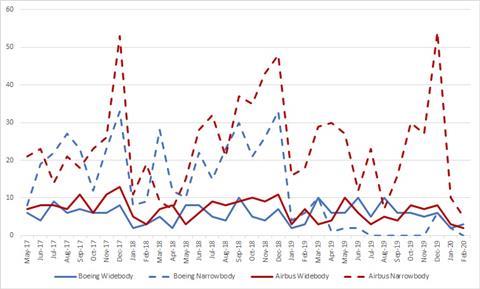 Of the 11 aircraft delivered during the month in the Asia-Pacific, four went to India, two to the Philippines, and one new aircraft each to Japan, Kazakhstan, Singapore, South Korea, and Taiwan.
Mainland China received no new aircraft during the month, though generally it accounts for 20-25% of global deliveries on a monthly basis.
The Asia-Pacific airline with the most deliveries during the month was IndiGo, which received three Airbus A320neos. Otherwise, deliveries were evenly spread among eight other carriers.
Among airframers, Airbus led in narrowbody deliveries with five A320neos compared with no narrowbodies from Boeing, which continues to deal with the grounding of the 737 Max.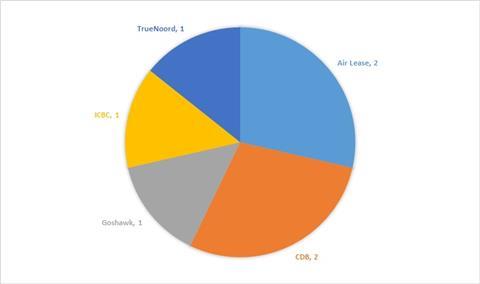 Boeing, however, delivered three widebodies, two 787-9s and one 787-10, compared with Airbus's delivery of two A350-900s.
Lessors were involved in seven of the month's deliveries in the Asia-Pacific. CDB Aviation and Air Lease Corporation led with involvement in two transactions each. CDB was involved in a pair of A321neos that went to IndiGo. Air Lease was involved with an A321neo that went to Air Astana, and a 787-10 for EVA Air.