Boeing is undertaking design modification of the 737 Max engine inlet after discovering that use of engine anti-ice in certain operating conditions can result in failure of the inlet's inner barrel and substantial cowl damage.
Operators must revise the aircraft's flight manual to instruct pilots not to use engine anti-ice unless flying in icing – or anticipated icing – conditions, according to a newly-published US FAA directive.
The revision, which must be implemented in 15 days, warns that use of anti-ice outside of these conditions "may result in severe engine inlet damage or failure".
All 737 Max jets are powered by CFM International Leap-1B engines, but CFM partner General Electric stresses that the issue centres on the inlet, which is part of the airframe, and does not relate to the actual powerplant.
Use of the engine anti-ice system in dry air for more than 5min, the FAA says, can cause overheating of the inlet inner barrel "beyond the material design limit".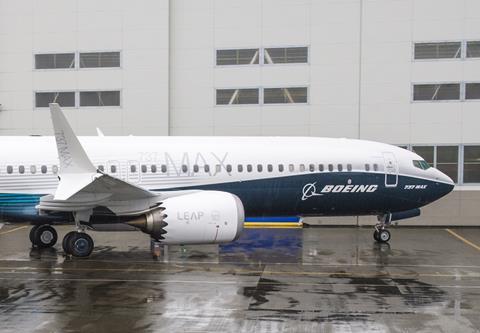 Flight-testing and analysis had revealed the issue, about which the FAA received notification in June.
The problem emerged during flight in certain combinations of altitude, air temperature, and thrust settings when not operating in visible moisture, leading to excessive inlet cowl temperatures.
"There have been no reports of in-service failures of the engine inlet inner barrel to date," the FAA points out.
But it warns that such a failure could potentially cause the aircraft to shed its inlet or fan cowl, resulting in wing, control surface, or empennage damage.
Impact of any lost aerostructures with the fuselage could also damage windows, leading to depressurisation or injuring window-seated passengers.
"Inlet loss also causes significantly increased aerodynamic drag and asymmetric lift due to wing blanking, which risks fuel exhaustion on certain flights," the FAA adds.
It states that the manufacturer, Boeing, is developing a modification to remedy the condition. The details of this modification have yet to emerge.
Along with the manual revision, operators must change their minimum equipment list, in relation to engine cowl anti-ice valves, to prohibit aircraft despatch under certain conditions currently allowed.
"The FAA plans to revise the [master minimum equipment list] to remove that item in a future revision," says the directive, which takes effect on 25 August.
Just over 400 aircraft on the US registry are affected by the directive.
This article has been edited to clarify that the design modification relates only to the engine inlet. There is no change to the Leap engine itself.