Airbus has trialled further autonomous flight concepts using an A350-1000 test aircraft, including emergency diversion and automatic landing, but insists they are aimed at supporting a dual-pilot, rather than single-pilot, cockpit.
Part of the airframer's UpNext initiative the 'DragonFly' programme takes its inspiration from insects of the same name – using biomimicry of dragonflies' combination of high-speed senses, spanning a wide field of view, feature recognition and precision flight control.
DragonFly has focused on three particular aspects of autonomous operation – diversion, landing and taxiing – including assistance during a simulated incident of pilot incapacitation.
The aircraft relies on automatic intelligent decision-making based on flight data obtained through a combination of sensors, including cameras on the A350's nose, and backed up by vision algorithms and guidance calculations.
DragonFly head of demonstrator Isabelle Lacaze says the programme has been running for two years, but flight-testing using aircraft MSN59 commenced in July 2022 and the airframer is "enthusiastic about the first promising results" obtained towards the end of last year.
Among the achievements, she says, was the simulation of sudden pilot incapacitation over Limoges during a flight to Lyon, in a real air traffic environment.
"The system took over and diverted the [aircraft] safely to the nearest appropriate airport – Toulouse in that scenario," says Lacaze.
"It was really amazing to see that all our stakeholders in this scenario [including test pilots and air traffic controllers] were really positive about the feasibility and the acceptability of the solution."
She states that the diversion function can activate automatically or act as a support to the pilots.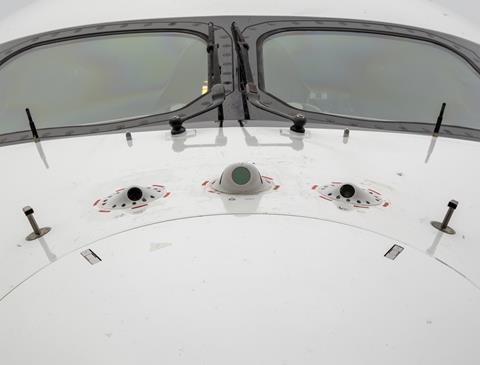 Addressing the possibility of incapacitation remains one of the contentious issues when considering a possible shift towards single-pilot operations.
But Lacaze insists that DragonFly is intended to develop and evaluate assistance to a two-pilot crew, to help manage workload during intensive phases of flight, such as diversion – with cases of incapacitation or medical emergency among the possible causes.
"We consider there is already huge value [in this]," she says. "We are in exploratory field of research. Our framework – to mature, to explore, see what we can do with the new technology – is really focusing on… assistance for dual-pilot operations, meaning the current crew composition."
But DragonFly does envision support for extreme circumstances in which pilots are no longer able to control the aircraft.
The criteria for detecting incapacitation are "sensitive", says Lacaze, and she does not elaborate on the techniques involved, but says that the system is designed to take over "seconds" after detection.
Lacaze says the DragonFly demonstration team has had to "fine tune" the implementation through a step-by-step process, gradually integrating different aspects, to ensure that safety was preserved as the aircraft took control. "It was not an easy walk in the park," she says.
She says the programme is intended not only to offer diversion assistance but to support crews in taxiing at congested airports, through computer-vision obstacle detection, to maintain speed control and centreline tracking, as well as alerting pilots to the risk of runway crossing. The taxi functions have been tested at Toulouse airport.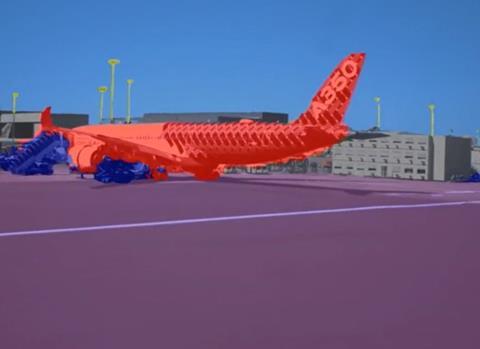 Prior autonomous flight testing using an A350-1000, under a programme named ATTOL, demonstrated a fully-autonomous take-off using vision systems to track the runway, and carry out automatic rotation.
DragonFly has extended this to automatic landing, including in low visibility conditions using sensors and vision systems, and Airbus believes the capability could be broadened to approaches to any airport, even those not equipped with the ground technology to support landing automation.
Airbus says its demonstrator takes into account a range of external factors – including terrain, weather and military flight zones – as part of its assessment of where to land, and generates a new trajectory.
It adds that the aircraft also uses constant communication with air traffic control and the airline operations centre to co-ordinate a safe approach.
Several Airbus divisions and a number of partner companies, including Collins Aerospace, Honeywell, Thales, Onera and Cobham, have co-operated with the DragonFly programme, which has embarked on its last three months of testing.
"These tests are one of several steps in the methodical research of technologies to further enhance operations and improve safety," says Lacaze.
She says the UpNext initiative is launching a project to advance landing and taxi assistance with a view to taking advantage of new-generation computer-vision algorithms.