Canadian investigators have disclosed another deviation incident involving a Boeing 787 flight on approach to Hong Kong.
The aircraft, an Air Canada 787-9, was conducting a service from Toronto to Hong Kong on 8 July.
On final approach – while operating in visual meteorological conditions – the aircraft "deviated below the glideslope", says a notification from Transportation Safety Board of Canada.
The notification says the glideslope was re-established at about 900ft above sea level, it adds, and the flight, with only four occupants, landed without further issues.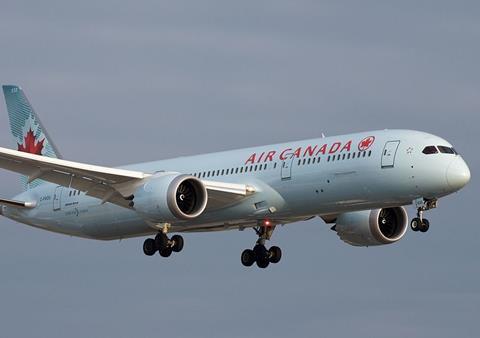 Investigators have not specified the reasons for the event and whether the circumstances relate to several previous deviation incidents involving 787s on approach to Hong Kong.
But one of those incidents, in April 2020, involved the same aircraft (C-FNOH) identified in the July 2021 event.
On that occasion the aircraft had been arriving from Vancouver and was established on the ILS for Hong Kong's runway 25L.
But it overshot the localiser and descended below the minimum sector altitude, before the crew corrected the approach path and cited a false ILS capture.
Several other carriers have experienced similar incidents while operating 787s into Hong Kong, among them Virgin Atlantic, Ethiopian Airlines and Etihad Airways.
Boeing has previously issued notifications of possible autopilot flight-director anomalies during ILS approaches to runways 25R and 25L at the airport, and has been developing a software update to resolve the issue.