Alaska Airlines has delivered a De Havilland Canada Dash 8-400 turboprop to be retrofitted with a hydrogen-electric propulsion system by powertrain developer ZeroAvia.
After changing hands during a 1 May ceremony at Paine Field in Everett, Washington, the 76-seat Dash 8-400 is set to become the "world's largest zero-emissions aircraft", the companies said.
"Aligning ZeroAvia's powertrain with the Dash 8-400 airframe will represent a commercially viable zero-emission aircraft with fuel cell engine technology around five times more powerful than what has been demonstrated anywhere to date."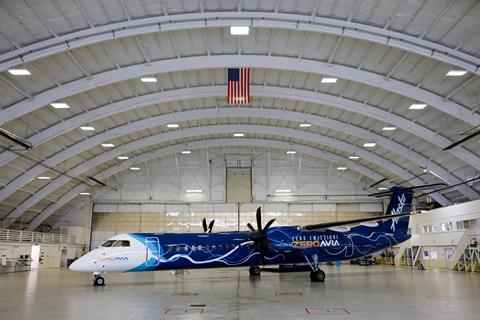 Also during the 1 May event, ZeroAvia demonstrated its HyperCore electric motor system in a 1.8MW prototype configuration, which was mounted on a heavy ground-based testing rig.
Alaska's regional subsidiary Horizon Air recently retired its fleets of Dash 8-400s but set one of type aside for "research and development purposes to further advance zero emissions technology for the aviation industry", Alaska says.
"Alaska Airlines has defined a five-part journey to achieve net zero carbon emissions long-term, but we can't get there alone," says Ben Minicucci, Alaska's chief executive. "New technologies are required to make that future possible, and we are thrilled to partner with industry leader ZeroAvia to make new zero emissions options a reality."
With operations in the UK and USA, ZeroAvia is one of several start-ups betting on the potential of hydrogen fuel to decarbonise the aviation industry. Hydrogen fuels emits only water when burned or used to produce electricity.
Another notable company developing hydrogen-electric propulsion technologies is California-based Universal Hydrogen, which in early March completed its first flight of a Dash 8-300 powered partly by a hydrogen fuel-cell propulsion system.
At the time, Universal Hydrogen touted its retrofitted Dash 8-300 as "by far the largest fuel-cell powered airplane ever to fly".
Universal Hydrogen has ambitions of having its hydrogen-propulsion technology incorporated into the next-generation designs of narrowbody Airbus and Boeing jets. The company's chief executive, Paul Eremenko, believes that may be the only realistic way for the aviation industry to reach its zero-carbon target by 2050.
Airbus has in recent years backed several concepts for hydrogen-based airliners, but Boeing has been less enthusiastic about such conceptual propulsion systems.
Significant technical problems must be solved before hydrogen becomes a viable fuel for commercial jets. "Hydrogen fuel cells, a clean energy source whose only emission is water, have yet to achieve use in powering large aircraft due to engineering challenges associated with weight, temperature and electrical loads," NASA said in November, while noting that "new research demonstrates there may be a way forward".
ZeroAvia recently has been flying a Dornier 228 powered partly by its 600kW ZA600, a hydrogen fuel cell system that produces electricity using hydrogen gas. The company is planning for that powertrain – designed for aircraft with fewer than 20 seats – to enter service in 2025.
The start-up is also developing a more powerful propulsion system using liquid hydrogen – the 2-5.4MW ZA2000 – to power 40- to 80-seat turboprops and regional jets. It is on track to enter service in 2027, ZeroAvia says.
"ZeroAvia's recent advancements clear the way for a potential flight of the [Dash 8-400]… but also demonstrate rapid progress toward certification of the ZA2000 propulsion system," the start-up says.