Amsterdam Schiphol airport's operator is to carry out a bird-control trial which centres on the use of pigs.
It will take place on a plot of land, with an area of about 2ha, situated between runways 18R and 18C.
This plot was used to harvest sugar beets. But crop residue attracts birds, says the airport operator, and the trial will involve allowing 20 pigs to forage on the land in order to deter bird activity.
"In the coming weeks, bird activity in the area with the pigs will be compared to a reference plot without pigs," it adds.
"Success of the project will be measured using a special bird radar, which will map the areas at Schiphol and its surroundings that are frequented most by birds, along with visual observations."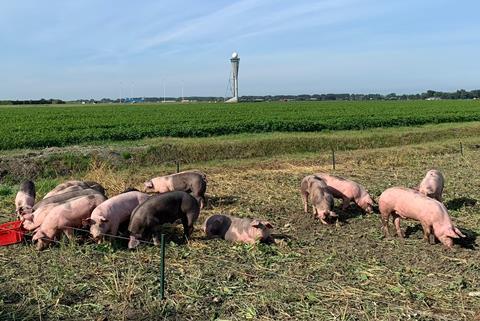 The Dutch ministry of infrastructure is supporting the project, which is being run in co-operation with pig farming specialist Buitengewone Varkens – which means 'extraordinary pigs' – and agricultural firm RVR Loonbedrijf.
Schiphol's operator says it already has 20 bird controllers monitoring ornithological activity at the Dutch hub.
"They work throughout the airfield to keep the birds away, at all hours of the night and day, using technology varying from special sounds to laser beams," it says.
Cultivation of long grass is used to keep the airport "unappealing" to birds, it adds, while other tactics have included firing gas cannons and deploying falcons.
Schiphol once attempted to adopt a zero-tolerance policy to birds in the runway area, but abandoned this as unrealistic.
Its birdstrike occurrence figure – which is largely based on reports from KLM – has typically remained at around six per 10,000 air transport movements.