Russian investigators have disclosed that the Antonov An-26 involved in a fatal coastal terrain collision at Palana had originally conducted the overland approach to the airport's runway 29.
Federal air transport regulator Rosaviatsia, in preliminary findings, states that the Kamchatka Aviation Enterprise aircraft carried out a non-precision NDB approach to the runway following its flight from Petropavlovsk-Kamchatsky on 6 July.
But the aircraft passed the airport and apparently crossed over the coastline, subsequently flying inbound "towards the airport from the sea", says Rosaviatsia. It has not clarified whether the crew was attempting an approach to the opposite-direction runway 11.
The An-26 collided with a steep rocky cliff – rising to around 150-200m – at a distance of 3.6km from the airport, an impact which destroyed the aircraft and left no survivors from the 28 occupants.
"Palana airfield is located in a mountainous area," says Rosaviatsia. "The landing approach was carried out in difficult weather conditions."
It says fog was present with broken cloud at just 300m and overcast cloud at 720m, according to the Palana airport meteorological station, with winds from the south-east at 14kt. The mountains were shrouded in cloud.
Rosaviatsia states that the captain – who had over 3,300h total time – was authorised to operate to a meteorological minimum of 60m height and 800m runway visibility.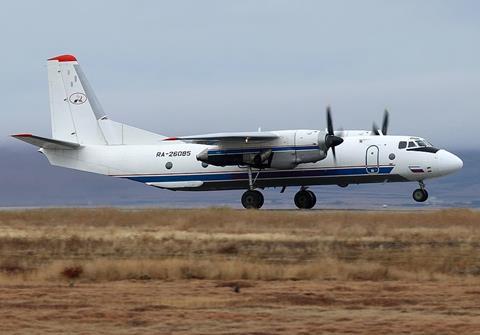 The authority highlights the fatal accident in September 2012 involving an An-28 operating the same route.
While descending for landing at Palana the aircraft collided with the slopes of the mountain Pyatibratka located at a distance of 10.7km from the airport.
Rosaviatsia points out that the inquiry concluded the crew had violated the approach pattern for Palana – resulting in the aircraft's deviating from the established route – and conducted a premature descent below minimum safe altitude while flying in the vicinity of high terrain, in weather that prevented visual contact with landmarks.
Alcohol was found in the blood of both pilots, it adds, and there had been a lack of discipline regarding pre-flight preparation. The crew also failed to respond to a radio-altimeter warning about the descent below safe altitude.
Investigators subsequently recommended that flight-data monitoring be used to check adherence to approach patterns and extra training for flights in non-radar areas near mountainous terrain.