The Australian Transport Safety Bureau has released its interim report into the 23 January crash of a Lockheed Martin EC-130Q during a firefighting mission.
The 20-page report sums up the evidence the ATSB has amassed related to the crash, which killed all three crew members and destroyed the aircraft. The aircraft involved was operated by Coulson Aviation, and bore the registration N134CG (MSN4904).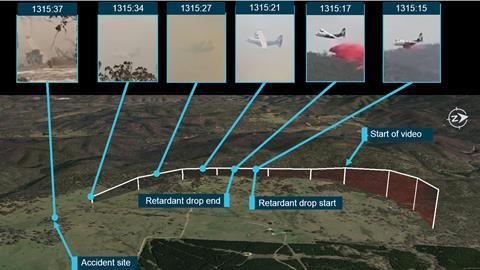 "Weather and environmental influences, aircraft performance and handling, and operating policies and procedures are among the areas of ongoing focus as the ATSB continues its investigation into the collision with terrain of a C-130 large air tanker," says the ATSB.
The crash occurred near Peak View, New South Wales. The aircraft was originally tasked to drop its retardant at Adaminaby fire ground, but strong winds and smoke precluded this and the aircraft was re-tasked.
The ATSB is relying on ADS-B transponder data, witness testimony and a video shot from the ground. The aircraft's cockpit voice recorder was inoperable during the crash.
"Analysis of the witness video confirmed that the aircraft initially established a positive rate of climb and was banking to the left following the retardant drop," says ATSB.
"After climbing for about 10 seconds the aircraft was then observed to roll from a left bank to a slight right bank. A maximum height of about 330ft above ground level was reached before the aircraft was observed descending. A further seven seconds later, the aircraft was observed at a very low height above the ground, in a left bank, before it collided with the ground."
Wreckage recovered from the crash site suggests no evidence of a structural failure or pre-existing damage to the aircraft. Inspections of the aircraft's engines indicate they were rotating at impact.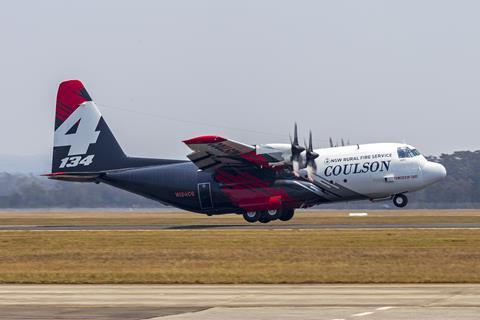 "Due to the extent of damage, the elevator, aileron and rudder trim settings could not be established," says ATSB. "However, on-site measurements of the flap screw jacks indicated the flaps were set at 50 per cent at impact, consistent with the expected setting following a retardant drop."
In addition, witnesses on the ground reported very strong winds with powerful gusts.
According to Cirium fleets data, the aircraft was delivered new to the US Navy in 1981. It later served with NASA for experimental work from 1992 to 1993, at which point it was placed in storage.
Coulson acquired it in 2017 and converted the aircraft to perform aerial firefighting work. Coulson's firefighting C-130s are equipped with a RADS-XXL roll-on, roll-off tanking system that can carry 4,000USgal of fluid.