Windshear and procedures have been identified as factors in the fatal crash of a Lockheed Martin EC-130Q firefighting aircraft in Australia on 23 January 2020.
The crash, which killed all three crew, occurred in the early afternoon as the Coulson Aviation aircraft (N134CG, MSN4904) attempted to egress from a partial drop of fire retardant near Peak View in Australia's Snowy Mountains, according to the Australian Transport Safety Bureau's (ATSB's) 88-page final report.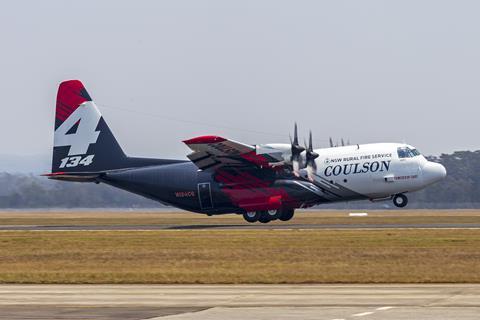 "The ATSB found that the forecast and actual weather conditions present in the Snowy Mountain region were hazardous, with strong gusting winds and mountain wave activity, producing turbulence," says the ATSB.
"This was likely exacerbated by the fire and local terrain. Subsequently, the ATSB determined that the conditions were conducive to windshear and downdraft development at a time when the aircraft was most vulnerable, with a low airspeed and at a low altitude."
The EC-130Q crew had already rejected a tasking to drop retardant at a fire near Adaminably owing to bad weather conditions, and proceeded to an alternate drop location where the same hazardous conditions also prevailed.
The crew circled the new location at three different altitudes before deciding to conduct a partial drop. Based on video recordings, witness testimony, and flight path data, the ATSB says that the aircraft's climb performance degraded after the drop, likely owing to windshear and an increased tailwind.
"Subsequently, while at a low height and airspeed, it was likely the aircraft aerodynamically stalled, resulting in a collision with terrain. In the limited time available, the remainder of the fire-retardant load was not jettisoned prior to the aircraft stalling."
The failure of the aircraft's cockpit voice recording during the accident flight hampered the ATSB's probe.
The ATSB concludes that Coulson's risk management processes were inadequate for large tanker operations. It also noted the inadequacy of the company's windshear recovery procedures for C-130 crews.
Since the crash, the company has implemented a windshear recovery procedure for the C-130, including simulator-based recurrent windshear training. Moreover, risk management procedures have also been improved.
The ATSB has also recommended that Coulson equip its C-130 aircraft with windshear detection systems.
Another issue the ATSB raised in its final report is that the crew of N134CG might have been unaware that other firefighting aircraft had declined firefighting taskings owing to hazardous conditions.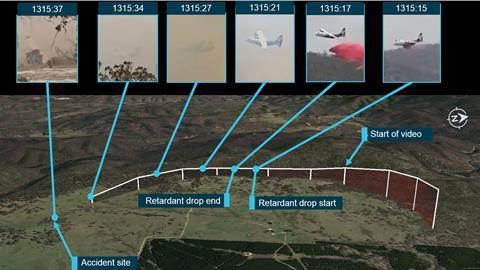 "While this was only one risk factor among others that would be considered by the crew when accepting a task, having this information would have allowed them to make a more informed decision about the weather conditions," says the ATSB.
To this effect, the New South Wales Rural Fire Service – which is responsible for firefighting taskings – is working to improve procedures and coordination capabilities for large air tanker missions.
"As noted by the National Aerial Firefighting Centre, aerial firefighting has become a critical capability for the management and suppression of bushfires in Australia," says the ATSB.
"To effectively achieve this, aircraft are flown at low altitudes and low airspeeds, often in challenging environmental conditions. This creates a high-risk environment, which requires a continued focus on risk mitigation."