Airbus and Pratt & Whitney have developed an update to A220 health-management units to detect whether thrust thresholds on the type are being exceeded and, if so, automatically transmit a report.
The intention is to improve the reliability of detecting exceedance of N1 engine power limits as part of the investigation into a series of in-flight shutdown incidents involving Pratt & Whitney PW1500G engines.
Swiss and Air Baltic A220s have been affected by the failures, which have resulted in operators being told to restrict thrust settings to 94% of N1 while above 29,000ft.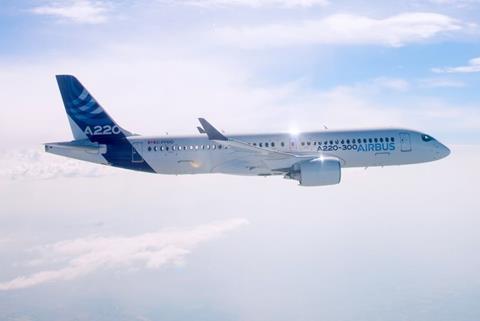 Crews have been instructed to report instances in which this N1 limit is exceeded, in order to identify the need to carry out inspections of the engine.
Transport Canada has disclosed that, to assist this reporting, Airbus's Canadian operation and Pratt & Whitney have modified the health-management unit to detect an N1 exceedance event, and send a notification automatically via the ACARS addressing system.
The modification is optional, but recommended, in order to "more reliably" identify breaches of the thrust limit, Transport Canada states in an airworthiness directive.
If the crew or the automated system reports an N1 exceedance, the directive requires borescope inspection of the first-stage low-pressure compressor rotor – within four cycles for A220s conducting extended twin-engined operations, or within 15 cycles for other aircraft.
But it adds that inspection is not required if, following a crew report, flight-data records show the N1 did not exceed 95% for more than 40 consecutive seconds above 29,000ft.
Investigations are still continuing to determine the root cause of the incidents, which have led to uncontained debris release. These inquiries have indicated that high-altitude climbs at high thrust settings, for certain engines, might be a contributor.