Airbus A320neos will have a new combined cockpit-voice and flight-data recorder line-fit option this year following certification of L3Harris Technologies' latest model.
It features over 25h of cockpit recording and 25h of datalink recording, plus more than 70h of flight-data recording.
Part of the company's SRVIVR25 product range, the device has secured US FAA technical standard order certification which, says the manufacturer, is also recognised by European and other regulators.
L3Harris points out that the new combined recorder is its first to meet the European Union Aviation Safety Agency's mandate for a minimum of 25h voice recording for new aircraft from 1 January 2021.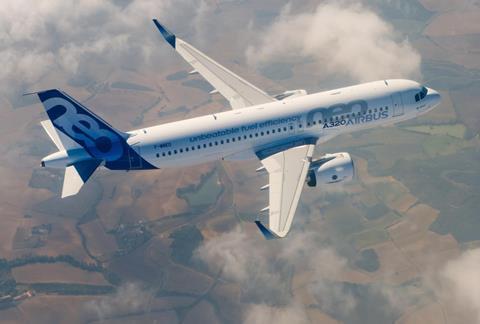 It will also be offered later on the A330 and A350, and an automatically-deployable version – which uses a copy of the combined recorder information in a deployable module – is also being developed for the A350.
L3Harris says the newly-certified equipment will enter service as a dual cockpit-voice and data recorder installed as a line-fit solution on A320neo-family aircraft "later this year".
The SRVIVR25 series platform includes capability to support future enhancements, such as real-time data streaming, video functions, and trigger mechanisms for distress tracking.
L3Harris president of avionics Terry Flaishans says the product line will provide "the most data ever available" for airlines to analyse and act upon.
"Operators can quickly download the cockpit, datalink and flight performance data giving them the ability to scrutinize and understand scenarios for standard, as well as adverse flight events," he adds.