Canadian investigators have disclosed details of a second Air Canada Boeing 737 Max load and balance mishap within three weeks, this time involving an aircraft departing Los Angeles.
The incident occurred on 4 January as the aircraft (C-FTJV) rotated for take-off on a service to Vancouver.
According to Transportation Safety Board of Canada, the crew felt that the aircraft's nose was "slightly heavy".
Once flight AC557 was airborne the pilots checked load data to verify the accuracy of the balance calculations.
The safety board says all cargo had been loaded in the forward hold, resulting in a 5.8% forward difference in the centre-of-gravity position for the take-off weight in relation to the aircraft's mean aerodynamic chord.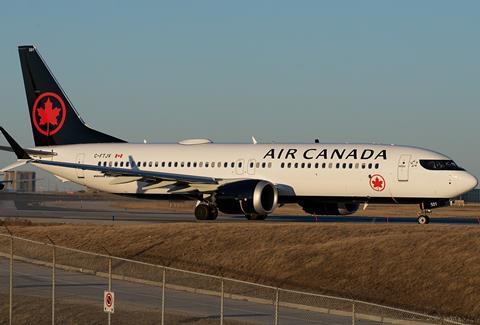 It adds that the aircraft, which had 103 occupants, continued to Vancouver without further incident. The jet, a Max 8 variant, had been delivered to Air Canada in 2017.
Investigators had already been probing a similar event involving another Max 8 from the same carrier on 19 December.
Its crew had experienced premature pitch-up during take-off from Vancouver, and subsequent examination found dozens of baggage items loaded in the aft hold in contrast to load documentation indicating they were forward.