The Federal Aviation Administration has moved to extend the required timeframe for cockpit voice recordings to be preserved in light of numerous recent serious runway incursion incidents in the USA.
The move comes a day after the FAA held a "Safety Summit" in Washington, DC, which was conceived to "examine additional actions the aviation community needs to take to maintain its safety record". FAA acting Administrator Billy Nolen had called for the summit following several incidents during which aircraft came dangerously close while taking off and landing.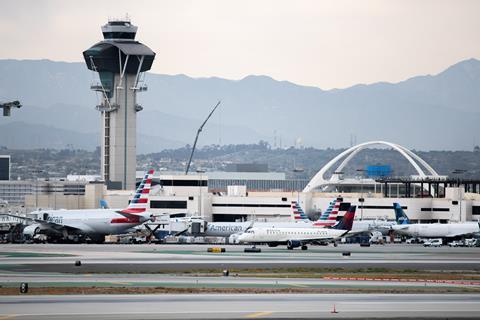 At the event on 15 March, National Transportation Safety Board Chairman (NTSB) Jennifer Homendy noted that current FAA requirements – that 2h of recordings be preserved – are insufficient.
Homendy said six critical safety incidents this year involving large commercial aircraft "have one thing in common: the cockpit voice recorders were all overwritten".
NTSB has recommended that 2h limit be extended to 25h.
"The FAA is committed to addressing the NTSB recommendations," the FAA said on 16 March. "We are initiating rulemaking that will require cockpit voice recorders to capture 25h of information. We will also establish an Aviation Rulemaking Committee to explore how to make greater use of data gathered by the airplane and its systems, including expanded flight-data monitoring. We welcome any tools or resources Congress wants to provide to help us do this expeditiously."
Homendy responded to the announcement on social media on 16 March, calling it "welcome news from FAA" and "a win for safety".
Extending the limit "helps operators improve safety," Homendy said at the summit. In Europe, the 25h rule has been mandated for the past year, she adds, and here in north America, "we are still waiting for action".
"What keeps me up at night is the next family that I have to talk to when we go on-scene to investigate an accident," Homendy said. "It's that next family, and the investigators I talk with on scene who say, 'We've seen this before, we have issued recommendations on this that haven't been acted upon'.
"It's heartbreaking, especially for the investigators, when they see that," Homendy said.
The NTSB and FAA are investigating numerous close calls at US airports this year.
On 27 February, pilots of a JetBlue Airways Embraer 190 were forced to abort landing after the pilot of a Learjet erroneously crossed a Boston runway.
Just over a week earlier, an air traffic controller cleared an Air Canada jet's pilots to take off on Sarasota Bradenton International airport's Runway 14 at the same time an American Airlines jet's pilots were "cleared to land on the same runway", the NTSB says.
On 4 February, a FedEx 767 broke off its approach to Austin to avoid a Southwest Airlines 737 that was taking off, and on 13 January, pilots of an American 777 wrongly crossed a runway at New York's John F Kennedy International airport, prompting pilots of a Delta Air Lines' 737 to reject their take off.