The Federal Aviation Administration intends to require airlines to inspect Boeing 757s after one operator found cracks on a high-time jet.
The US regulator is addressing the concern with a proposed airworthiness directive (AD) rather than an immediate order.
It intends to require operators to inspect US-registered 757s (a total 419 jets) and to complete other actions as detailed in a January 2022 service alert from Boeing.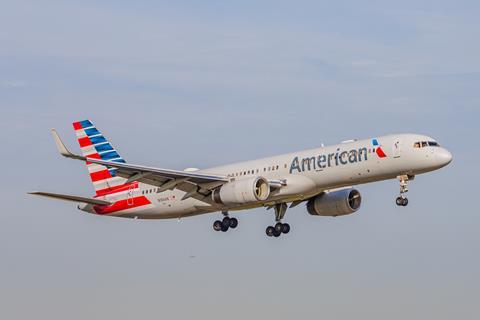 "The FAA has received a report indicating an operator of model 757-200 airplanes found cracks on the left side and right side in the station 1640 frame web between stringer S-14 and S-15, during maintenance," says the FAA's proposed rule. "
"One crack initiated at a corrosion pit in the open liner hole and propagated by fatigue," it adds.
The regulator says an investigation by Boeing found that some "liner holes" between stringers on "some airplanes were not plugged, creating a stress concentration around the unplugged hole, which could lead to cracks".
One crack was identified on an aircraft that had completed 30,200 flight cycles and 89,000h of flight, while other cracks were found on an aircraft with 40,200 cycles and 90,500h.
Boeing's service alert calls for operators to complete "repetitive surface high-frequency eddy current inspections for cracks" and to make repairs if needed.
The order applies to 757-200s and 757-300s. The FAA is accepting public comments about the proposal through 5 September.
The FAA previously, in 2018 and 2020, issued rules to address potential cracks in the same fuselage area – section 1640 – of 757s.