Hong Kong's Air Accident Investigation Authority (AAIA) is investigating an engine fire on freighter operated by express air shipment company UPS.
The incident took place on 20 July, and involved a Boeing 747-8F, registered N624UP, which was flying from Hong Kong to Dubai with flight number UPS3, manned by three crew members.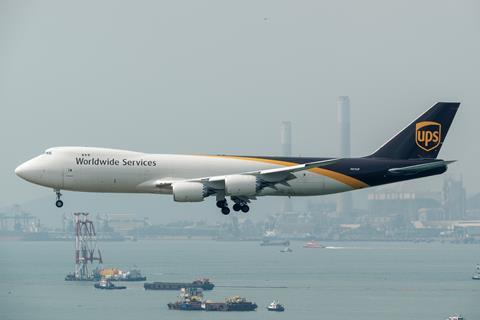 The aircraft took off from Hong Kong at 12:16 local time, but returned to the airport four minutes later, due to a shutdown of the number one engine. The 747-8F is powered by four General Electric GEnx-2B67/P turbofans.
After landing, the AAIA states that the stricken engine caught fire and was subsequently damaged. No other damage to the aircraft was reported, and no one was injured in the incident, which the AAIA has classified as serious.
The authority has conducted interviews with the flight crew, and has obtained relevant footage and data, including flight documents and data, weather information, as well as airport close-circuit television footage.
It adds that the engine has been removed and sent to GE for further inspection.
A representative from the US National Transportation Safety Board will be participating in the investigation as well.
"The investigation team is conducting a detailed analysis of the data and information collected in order to determine the circumstances and causes of this serious incident in conjunction with identifying areas that need further investigation and/or lines of investigation to pursue," adds the AAIA, which expects investigations to take up to a year.
Cirium fleets data indicates the freighter was delivered to UPS in November 2020. The carrier has a fleet of 23 in-service 747-8Fs, with another five more on order.