Indonesia's National Transportation Safety Committee (NTSC) is investigating a runway excursion involving a Hawker 900XP private jet attempting to land at Maleo Airport on the island of Sulawesi.
The excursion occurred during the mid-afternoon of 11 May, according to official news agency Antara. There were no injuries among the four passengers and four crew aboard the aircraft.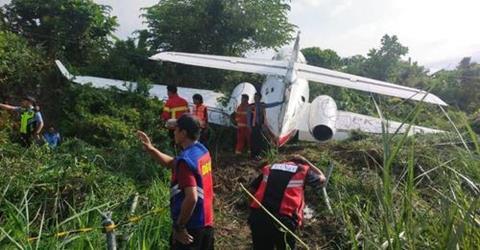 Flight tracking sites indicate that the aircraft was attempting to land on runway 05 after a flight from Jakarta Halim Airport.
Social media images indicate the aircraft is registered PK-LRU (MSN HA-0212). According to Cirium fleets data, PK-LRU is operated by Space Jet, the jet charter unit of low-cost carrier Lion Air.
Lion Air has yet to reply to a request for comment.
BREAKING: Sebuah Pesawat Hawker 900XP dengan registrasi PK-LRU dikabarkan mengalami kecelakaan saat mendarat di bandara di bandara Maleo, Umbele, Kabupaten Morowali sekitar pukul 1400WIB/1500WITA.

A Hawker 900XP with registration PK-LRU suffered a runway excursion at Maleo… pic.twitter.com/h2b2lZCjNz

— Gerry Soejatman (@GerryS) May 11, 2023
Images on social media show the jet resting among trees in a nose up attitude. The aircraft's nose cone is crushed, and there are signs of buckling just behind the cockpit. There are no signs of fire. The tail of the aircraft appears tangled in what appears to be barbed wire.
According to Antara, the aircraft came to rest 200m (656ft) from the end of the runway.
The aircraft was delivered in September 2012.