Failure of hardware inside a FedEx Boeing 767-300ER Freighter's left-side main landing gear prevented the gear from extending during an August 2020 flight, leading to a gear-up landing at Los Angeles.
That is according to the National Transportation Safety Board (NTSB), which says a "brake rod" problem caused the accident, which injured the first officer.
The safety investigatory agency concluded in its final report, released on 12 July, that a "brake rod pin" likely came loose during flight.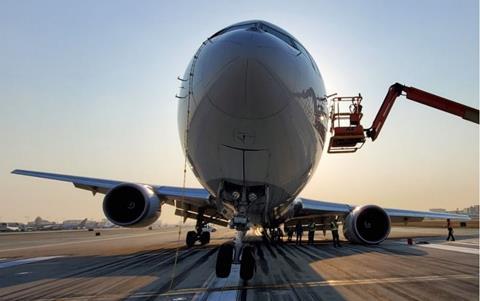 "The flight crew was unable to extend the left [main landing gear] during the approach because the pin had come loose during the flight, which allowed the brake rod to move out of its normal position and become hung up on the landing gear up-stop," the NTSB says.
It could not determine why the pin came loose.
The incident involved FedEx flight 1026 from Newark to Los Angeles on 19 August 2020. Only two people – the captain and first officer – were aboard the aircraft (registration N146FE).
The flight was normal until the pilots were preparing to land at Los Angeles. At about 1,800ft, one pilot lowered the landing gear handle, which prompted a "gear disagree" error message in the cockpit. The left-side gear had not extended.
The pilots responded by completing checklist procedures, which included attempting to lower the gear using an alternative method. That method involves unlatching the landing gear doors, which allows the doors to fall open. The gear rests on the closed doors and is designed to fall into the extended position when the doors open.
After that attempt failed, the pilots completed two low flyovers of the airport and control tower, allowing ground workers to confirm the left main gear was not deployed, says the NTSB.
The pilots then performed a gear-up landing on Los Angeles' Runway 25R, which the captain described as "normal" until the left-side engine hit the runway.
The captain "maintained directional control with the ailerons, rudder and right-wheel braking", and the pilots deployed the speed brakes. The 767 stopped on the runway's centerline, the NTSB says.
The first officer evacuated through the left cockpit window and attempted to use an escape rope to lower to the tarmac. But the first officer "lost his grip on the escape rope, fell to the runway and fractured his left heel".
The NTSB says the brake rods connect each brake assembly (there are four on each of the 767's main gears) to the gear's shock strut.
Manufactured in 2017, the 767 had logged 5,959h of flight and 2,608 cycles at the time of the accident.
Story corrected on 19 July to note that the jet was a 767-300ERF, not a -200ERF.