Investigators probing a fatal accident involving a Piper PA-31P Navajo, on its first flight after maintenance, have discovered that elevator trim tabs were installed upside-down.
The twin-engined aircraft – with just the pilot on board – took off from Myrtle Beach airport's runway 18 on 21 May, bound for Grand Strand airport just 13nm to the north-east.
"Once airborne, the controller instructed the pilot to turn left," says the US National Transportation Safety Board. "However, the pilot stated that he needed to return to runway 18."
The aircraft (N575BC) was cleared to follow a right-hand traffic pattern at 1,500ft.
But as it turned downwind it reached about 1,000ft, subsequently descended to 450ft, climbed to 700ft, and then descended again to 475ft before radar contact was lost.
It crashed in a field some 2nm west of the airport, and was destroyed by impact and fire. The pilot did not survive.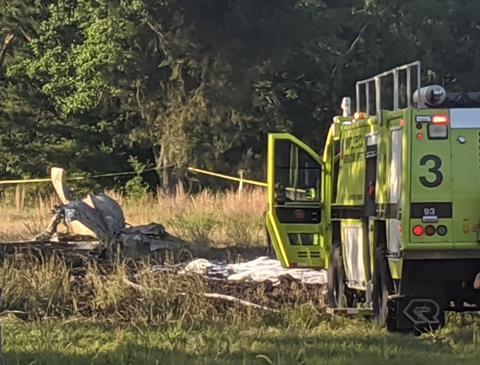 Investigators established continuity of the flight-control cables from the cockpit to all the control surfaces.
But the inquiry says examination of the elevator trim tabs showed they had been fitted "upside-down and reversed".
"The connecting rod that attached the trim tab to the trim drum, that should be located on the top of the trim tab, was located on the bottom side," it adds.
Two days earlier the Navajo had completed its annual inspection. Maintenance performed on the aircraft included removing the primary and secondary flight-control surfaces, painting, and re-installing them.
The inquiry has yet to reach formal conclusions on the cause of the accident.
Inspection of the wreckage showed the elevator remained attached to the right horizontal stabiliser, with the right trim tab attached to the right elevator and deflected up – although it was separated by impact from the connecting rod.
The left trim tab remained attached to the left elevator. Its connecting rod was attached to the flight controls, and deflected up.
Investigators state that all major components were found in the vicinity of the main wreckage, contained within a debris field of 400ft by 150ft, with the aircraft's empennage separated. Examination of the engines and propellers, which sustained impact damage, is continuing.