Maintenance failures led to a fuel spill that caused a Boeing 767-200ER operated by Dynamic International Airways to catch fire on the ground at Fort Lauderdale in 2015.
The incident was made more severe because passengers began evacuating the jet before the pilots shut down the aircraft's right engine, according to the National Transportation Safety Board's (NTSB) accident report, released on 10 June.
One passenger was seriously injured when blown over by exhaust from that engine, and another 21 people received minor injuries, the NTSB says.
The incident involved a 767 powered by Pratt & Whitney JT9D-7R4E4 turbofans. The aircraft, registration N251MY, was operating Dynamic flight 405 to Caracas.
Investigators traced the fuel leak to a fuel-line coupling that had loosened due to lack of a "safety lockwire" on the coupling.
"The leak occurred after the coupling loosened due to the missing safety wire, which was the result of an error by the third-party maintenance provider", says the report. The leaked fuel ignited after contacting the hot engine case.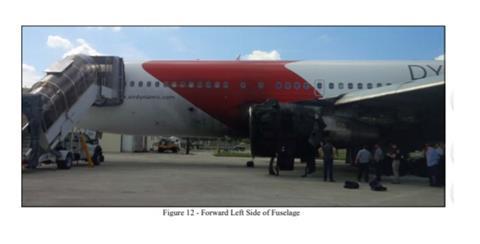 Dynamic has since changed its name to Eastern Airlines. That company did not respond immediately to a request for comment.
Maintenance had been performed on the coupling in October 2012, prior to the aircraft being placed in storage, the NTSB says. Additionally, the area of the coupling should have been subject to a visual inspection when the jet came out of storage in 2015, the NTSB says.
Kalitta Air performed the maintenance before and after the aircraft was stored, it adds. That company's representative also did not immediately respond to a request for comment.
The 767 had accumulated about 240h of flight between leaving storage and the incident.
The Dynamic 767 pushed back from the gate at 12:28 local time. Shortly after, pilots in other aircraft on the ground at Fort Lauderdale notified controllers that the Dynamic 767's left-side engine was leaking fuel.
Soon realising their aircraft was on fire, flight 405's pilots shut down the left-side JT9D using the fire handle. At that time, without coordinating with the pilots, a flight attendant called for passengers to evacuate. After the evacuation began a pilot told passengers to exit on the right side.
However, the right-side engine was still running, which led to the single serious injury.
The fire damaged the engine strut and nacelle, and the jet's left wing, left main landing gear and the left side of its fuselage, the NTSB says.
Following the accident, Dynamic issued a directive requiring inspections to ensure couplings were properly installed on other aircraft in its fleet.